Storybird
How to use Storybird to create a picture book
Sign in with your username and password
Once in the website, Click "write" in the upper lefthand corner
Using the tags or the "search artwork tags" on the left hand, search for the subject of your story. (You may have to log in again after this step)
Click on the image you would like to use.
Click on the "use this art" blue button in the upper righthand corner
Select "picture book" from the drop down menu
You'll be taken to a new page with the begins of your picturebook and the first page with the image you selected.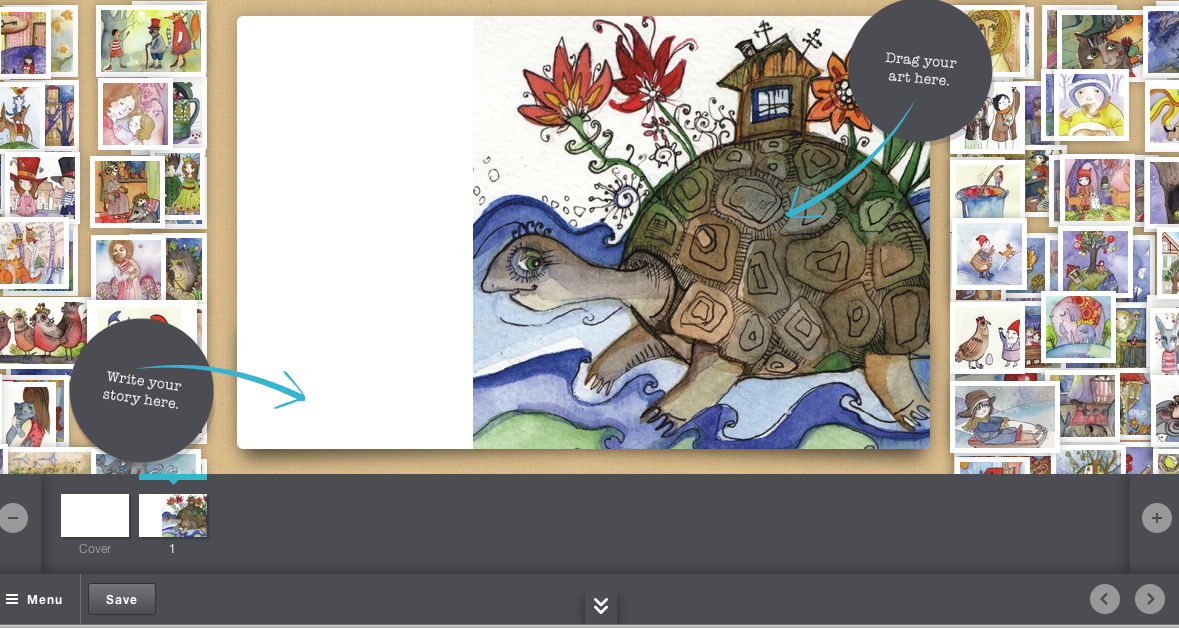 First position your picture where you would like it to be on the page. Grab and drag the picture to do this. If you make the picture too big there will not be room for text.
Then enter your text in the text box.
To add another page, click the plus sign on the bottom right of the grey box.
Select the image you want for this page, and click and drag it to the new page in the center of the screen.
Position your picture and then write your text.
Continue to repeat this process until you have created all your pages.
To create your cover, click on the cover page at the beginning of the grey strip on the bottom.
Choose your cover style by clicking on it in the grey strip
Select the color for your title area
Click in the textbox for your title and type in the title.
Click the "save" button in the lower left of the grey strip
Click in the lower left corner on "menu"
Type in your short summary of what your story is about
Select the categories that are related to your story
Type in tags for your story. Tags are words that would help others search and find your story.
Select the audience your story is written for
Click on the blue "publish" button in the lower lefthand of the screen
You've publish your first story!





Storybird

http://www.storybird.com

Storybird describes itself as artful storytelling. It is a website that allows you to create digital picture books, short stories and poems using art from their artists. The art is excellent and in a variety of styles and subjects. You can both create your own stories and read books by others. Sign up is free and teachers can create classes to manage their students' creations. It can also be used as a digital library of books for students to interact with.

Storybird pays artists to contribute to the site. It is also a site for professional adult writers to create stories, publish and promote.

Strengths
Weaknesses

Sign up is easy and does not require an email address if you are a student
Artwork is exceptional
"family friendly" means stories are moderated and school appropriate
multiple writing structure formats: picture books, short stories, poems
teacher management of classes and student work is easy
stories can be tagged, twitted, commented on and liked
stories can be hyperlinked too

limited to the artwork in storybird
no easy way to publish on paper
have to have a login to read writing

Special Features-
professional artwork

Easy teacher management for students


Similar Websites:

Storyjumper- http://www.storyjumper.com

Zooburst- http://www.zooburst.com

Tikatok- http://www.tikatok.com



Task #2- Activities for Storybird http://www.storybird.com

First Activity-
Common Core area: Reading and Writing
Educational level: Grade 3
Role of Web 2.0 technology: Used as a digital picture book library

Common core standards:
RL.3.7 Explain how specific aspects of a text's illustrations contribute to what is conveyed by the words in the story
RL.3.7 Use information gained from illustrations and the words in a text to demonstrate understanding of the text
W.3.1 Write opinion pieces on topics or texts, supporting a point of view

AASL standard: 3.1.2 Participate and collaborate as members of a social and intellectual network of learners

Academic language: Illustrator, textbox, double clicking, ratings. Through out instruction students will be introduced to words. Words will be put on library word wall and used throughout instruction.

Activity- Students will evaluate a picture book and then post as a review/comment in Storybird: Librarian will assist students and teacher in signing up for Storybird. Librarian will instruct on how to search Storybird for books. Teacher and librarian will decide on what the criteria is for the selection of the book the students will read and comment on. Librarian will have previously taught about the relationship between illustrations and writing. Students will use their searching skills and criteria to find a book. Using a wordprocessing program, students will write a comment for the text they read. After revisions, students will copy/paste their comment into Storybird as a comment and rate the book they read. Students will share out about the books they looked at to the class.

Second Activity-
Common Core area: ELA- Writing
Educational level: Grade 3
Role of Web 2.0 technology: Storybird will be the platform for creating a picture book

Common core standards: W.3.3 Write narratives to develop real or imagined experiences or events using effective technique, descriptive details and clear event sequences.

AASL standard : 2.1.4 Use technology and other information tools to analyze and organize information

Academic language: storytelling, graphic organizer, storyboarding, communicate, create

Activity- Students will create their own story in Storybird. The classroom teacher will instruct students on writing a story. The librarian will instruct students on how to use Storybird to write. She will show students how to search and select pictures. The classroom teacher will have students storyboard their picture books. Once writing, students will build their story in Storybird with guidance from the librarian and the classroom teacher. Students will publish and share their work.

Conclusion

Web 2.0 Technologies allow students to create with less of a focus on logistics and more of a focus on the literacy skills needed to produce an authentic product. The quality of images in Storybird combined with the original writings of the students allows students to create a piece of literature at a more professional level. Storybird also allows students who may have difficultly being neat and artistic to express their ideas and have a sense of creativity they may not be able to accomplish with their own artist abilities. The web-based platform allows students to share instantly in a safe, passworded environment.