August 2009 vol. 33 no. 8
On the top of the LaFayette , N.Y., school district Web site is a short sentence: "We play because its fun; we win because its tradition."
Simple and sure, and suiting for the LaFayette High School and its boy's lacrosse program.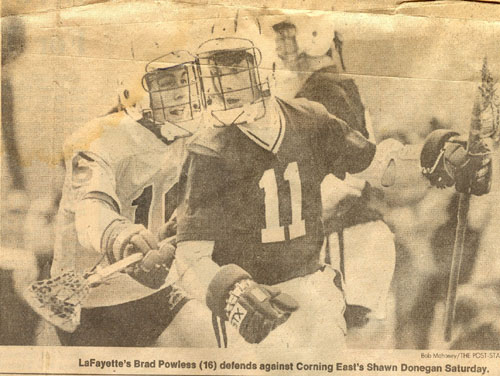 Located near the Onondaga Nation, the public high school graduates about 50 students a year and only enrolls about 200. It doesn't attract high school superstars with the private school lure or the promise of instant exposure. But despite the school's small population, the Lancers have continually produced some of the nation's top players and have proven to be one of the most consistent programs in the country.
Because of the Native American influence, many of the players were introduced to lacrosse at a young age, and to them the sport is more than just a game.
"What makes us different from other teams is that we have two communities come together to create a great tradition," said LaFayette assistant coach Brad Powless. "The Onondaga Nation and the town of LaFayette have worked together for a long time. We play for the Creator and for the love of the game. There's a strong sense of pride there, and it's great to be a part of that."
The Lancers have become well known in recent years for producing celebrated collegiate players like Syracuse graduates Brett Bucktooth and Marshall Abrams. LaFayette boasts 21 high school All-Americans since 1965, including Johns Hopkins-bound midfielder John Greeley.
"Many times a lot of coaches will go up to New York to go see West Genesee play, but now the coaches know that they have to make a stop at LaFayette as well," said Lars Tiffany, a 1986 LaFayette alum and current Brown University head coach. "The lacrosse tradition is well known up there."
In 2009 the team celebrated its 50-year anniversary. Coached by Carl Weist, the first LaFayette team was formed to keep the local Onondaga lacrosse players busy with competition and involved in school.
The team started out with donated helmets from Syracuse University and played with box lacrosse sticks because they couldn't afford officially sized field sticks. Still, by 1963 the Lancers had won their first county championship. By its ninth season LaFayette had won six county championships and two upstate championships.
"Every year is the same," said Powless. "We expect the kids to come in and try their best every season and every practice. We have wins and loses, some more than others, but we tell our guys to work hard for the game and for their teammates because good things happen when you work hard."
This season was no different. LaFayette finished the year 23-1 and landed two players on the US Lacrosse All-America team, as well as seven on the all-league first team. The Lancers lost the state title game to Manhassett, 16-11, but they plan to be back in the spring.
"Our biggest goal is to rebound from last season and get back to the title game next year," said rising senior Dan Liddy. "Lacrosse is so rich here, and the whole community stands behind us. After a win, it's great to come home and have everyone talking to you about it and congratulating you. We wan to go back to the finals and win it for them.
As tradition has it, a state title is never too far out of reach for LaFayette.
"We always have a great group of players coming into the program, and they have played lacrosse since they were so little," said Powless. "It's a part of our culture and a part of who we are."