Jeremy Thompson visits ONS
Waden'nwa awnha
March 27, 2011

Onondaga Nation- On March 15th, the Onondaga Nation School traveled to the dome to watch Jeremy Thompson play lacrosse against his brother Miles and former ONS student Edmond Cathers in the SU/UAlbany game. On Thursday March 24th, Jeremy returned the favor and visited ONS' 8th grade class.

Jeremy (Onondaga Hawk Clan) came to talk to the 8th grade students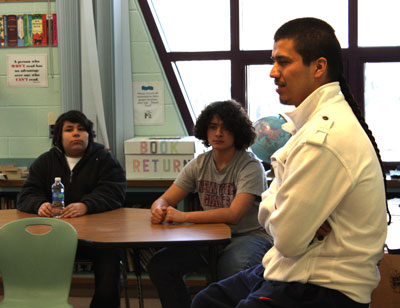 about the importance of their Onondaga/Haudenosaunee language and culture as they face the challenges once they continue their education off the Onondaga Nation.

He began talking to the class about the importance of knowing who you are. Part of knowing who you are is how you dress and talk. When he was younger, Jeremy attended a Mohawk language immersion school which helped him with dialogue and knowledge of our speeches that occur in the Longhouse. As he grew, he also saw the importance of taking the time and effort in making your traditional regalia. By taking the time to show how much you care about your regalia, you are showing everyone how much you care about who you are and where y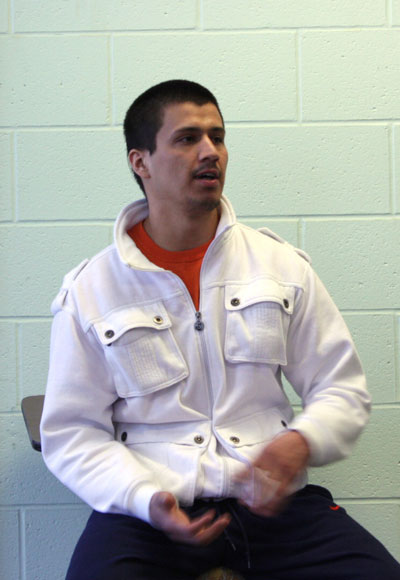 ou come from.

Jeremy states, "It is so good to see everyone in their best. This past Midwinter ceremony there was so many (traditional outfits) in the Longhouse. It makes you feel good."

Jeremy then began sharing with the class his path to Syracuse University. Jeremy told the class about the influence of his father, Jerome Thompson. His father began "working on the iron" right after graduating high school and he wanted a different life for his sons. So Jeremy began putting in the work at the LaFayette High School. Getting extra help from teachers, actually studying in study hall, managing your time, and showing your teachers that you are interested were key elements Jeremy shared with the class. Those habits Jeremy continues today with his studies at Syrac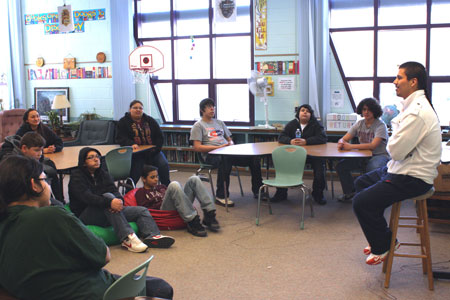 use University.

"School was hard." Jeremy explains, "But use it (school) to help you on your path. Everyone has a gift and a path to follow. Share your gift and it will help you and your people."

Now That his studies at Syracuse University are coming to a close, he cannot believe how quickly the time has past and how much he has learned. He selected SU because he is a family oriented person. At SU, he could go to school, be close to family, and close to the Nation. After SU he plans to return to Onondaga and begin programs to help the Haudenosaunee youth.

Jeremy concluded, "It is a constant battle out there to retain who you are. Our language and cultu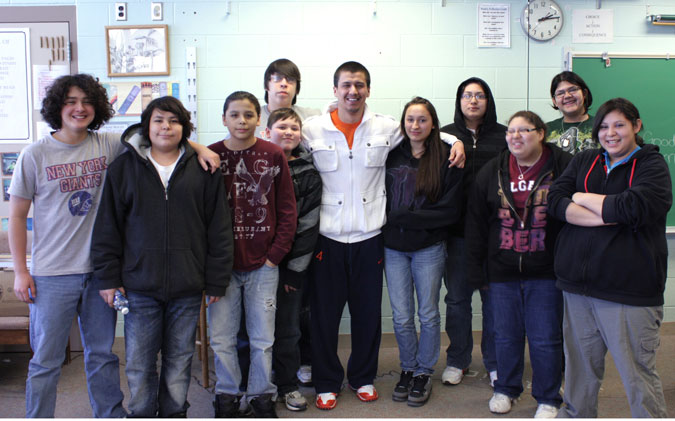 re helped me get through it. Everywhere you go; you can wear your traditional regalia, not a shirt and tie."