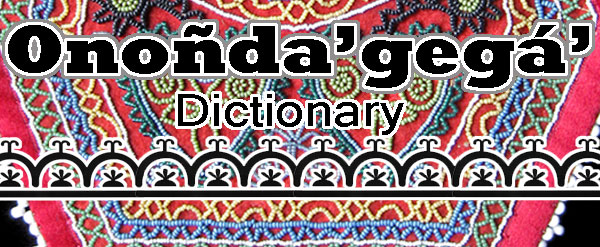 Pronunciation guide located at the end of dictionary
Dictionary based on Onondaga-English English-Onondaga Dictionary by Hanni Woodbury, 2003, University of Toronto Press

Please copy, improve upon, and acknowledge!


* Quick search tip: Press the CTRL and F key. Type in what you are looking for in the 'search box' .

A
above hé'tgeñh (listen)

(she has) abandoned (them) hoñwa•ná•dyoñh
(they have) abandoned him hoñwaya'dóñ•dyoñh

accident adyéeñhsä•'

(I) accept it gyená•oñs

Administration building Dyodihwasye'nha'

(they) adopt (babies) hoñdwiyä•gwas
(she) adopted (an adult) wa'oñdoñgwe'dá•gwa'

again/more áhsoñh

(they reached an) agreement wa'hoñ•di•hwagwe'nóñ•nya'
(they will) agree eñoñ•di•hwagwe'nóñ•nya'
(they are unable to) agree tha•hadigwé•nya' a•hoñ•di•hwagwe'nóñ•nya'

(I am) afraid (of it) kda•gwas
(she is) afraid (of it) ehda•gwas
(he is) afraid (of it) hahda•gwas
(you are) afraid (of the ghost) sda•gwas ne' gasgeñ•na'


air/wind ó•wä'
(there is no) air (in it) hya de'sga•ä•dah

airplane gahoñ•yí•dye'

alcohol ohné•ga'

all agwegih
(it is) all and only (beans) aogóñ' ne' ohsahé'da'

alligator dega'nóñ•des

all right hátsgwih

(it is) alone áo•goñ'
(she is not) alone "pregnant" hya de'jyagoya'dó•goñ'

already / now neñh / neñ'

also óhni' / ó'

always dyótgoñt

(our) ancestors oñgwahsodahsheñ•dáhgwa'

(small) amount niyohóñh

and so then dá•neh

animal – game goñdiyo'
(large) animal ga•yo'dowá•neñh


(I got) angry agna'khéñ'ih
(she is) angry gona'khwéñ'ih
(I will get) angry eñwa•gna'khéñha
(she got) angry wa'agona'khwéñha
(he gets) angry honá'khéñhs
(you are) angry sana'khéñ'ih
(you are always) angry dyotgóñt hona'khéñ'ih
(he makes me) angry hana'goñnyáha
(he has made me) angry hagna'goñníh

(he is an) announcer haiho•nátha'

(it is) all gone heyotsáhdih
(it was) all gone hwa'wats'áhda'
(they have) all gone hwa'goñts'áhda'

ant ji'nhoñsdóhgwih

(I will) answer eñi•hwa'sä•gwa'
(those two) answered wa'hni•hwa'sä•gwa'
(he) answered dahaihwa'sä•gwa'
(she) answered dayeihwa'sä•gwa'
(they will) answer eñthadi•hwa'sä•gwa'
(they will) answer (back) eñshadi•hwa'sä•gwa'
(she will) anser (back) eñjyeihwa'sä•gwa'

anyone/someone soñ•ga•'

apple swahyó•nah

apple cider dewahyohá•gih / oji'jya'

apron onihnodákhwa'

Arena Tsha' Hoñ'noñyeñ'dakwha'

(I) arrived/ (I'm home) sagyoñ' oneñh

(we all have) arrived oñgwayoñhs'ih

arrow gahésga•'
(five) arrows hwiks nigahesga•géh
(my) arrow akhésga•'
(you have lots of) arrows sahesga•'gá'de'

as if hagwás

(I feel) ashamed gadéheñhs
(I am) ashamed agadehéñ'ih
(he became) ashamed wa'hadehéñha'

ashes o'geñhä•'
my ashes aga'geñhä•'

ask (him) hesahéñ•doñh
(I will) ask (you) eñgoñyaheñ•dóñ'
(I will) ask (him) eñheyaheñ•dóñ'
(he is) asking (me) wa'hagaheñ•dóñ'
(I) asked (her) wa'kheyaheñ•dóñ'
(he is) asking (me) wa'hagaheñ•dóñ'

(white) ash tree ganeñ•hó•yah


(I) ate wa'gadekhoñnya'
(she) ate wa'oñdekhoñnya'
(you and I) ate (together) we'didya•doñt

(my) Aunt agnoha' dekhenóñheñ•khwa'

Aurora Borealis dewa•deñhyadyeñ•nyoñk

Autumn / Fall geñneñ•ná'geh

ax a'sgwéhsa'



B


baby owí•yä'

baby (boy newborn) hodoñni'áh

baby (girl newborn) godoñni'áh

(someone is) babysitting (him hoñwa'nigoñhä•ha'
(he is) babysitting (them) shago'nigoñhä•'
(she) babysat them wa'hoñwa'nigoñhä•'

(it is) bad nehétgeñ'
bad / evil ne'wahétgeñ'
bad (luck) wadä•'shwahétgeñ'
bad (smell) (it stinks) weñhsä•hétgeñ'
bad (boy) haksa'dahétgeñ'

backpack oñtgehdátha'

basket ga''áhsä•'

(he is a) baker hathä•hgóñtha'

banana / horn oná'ga'

(they are playing in the) band hodihsoñwé•da'

bank Tsha' thadihwisdayeñdákhwa'

ball eñ'nhé'tshä•'
(I threw a) ball hoñgeñ'nhe'tshéñ•di'
(I will throw a) ball heñwageñ'nhe'tshéñ•di'

ball game dehóñ'nhes

barn esthoñ•dä•yeñdákhwa'

(he plays) baseball dehéñ'nhes

basket ga'áhsä•'
(I make) baskets k'ahsä•hseñ•nyaha'
(they make) baskets hadi'ahsä•hseñ•nyaha'
(you make a) basket s'ahsä•hseñ•nyah
(planting) basket eyeñthwathá' ga'áhsä•'

bass (fish) ohwéñ'da'

bass (tree) ohóhsä•'

bat (mammal) dahoñhdaéks

bat ehwa'éstha' gá'nhya'

bathing suit oñdaweñ'dákhwa'

beads/necklace/scarf/tie onihdyástha'

beak oyóñ•da'

bean ohsahé'da'
(green) beans detgweñ'dya'khoñ'
(light) beans ohsahe'dageñä•dah
(strawberry bush cranberry) beans wahyok ohsahe'da'
(wild goose) beans gahoñk odihsahe'da'
(she picks) beans ehsahe'dá•gwas

bear ohgwá•ih

beautiful (color) ohsohgwiyóh

beautiful (evening) wahsoñdiyóh

beautiful (hill) onoñdiyóh

beaver honaga•yá'gih

bed / seat/ space ganákda'

bedding / nest ganá'sgwa'

bedroom onoñhwesdákhwa'

bee nahgoádahgwáhne'

(he) begs ha'nékha'
(she) begs e'nékha'
(I) beg (you) goñ'nékha'
(I have) begged ak'né•geñh
(he has) begged ho'né•geñh
(I) begged wa'k'né•ga'
(don't for sure) beg me ahgwíh dogéñs eñsg'né•gah
(he) begs (for food) hakhwa'nékha'
(he will) beg (from you) eñhya'né•geñ'
(he) begged (me for it) wa'hak'né•geñ'
(he) begged (her for it) wa'shago'né•geñ'
(we) begged (you all for food) wa'gwakhwa'né•geñ'

(I) believe it tgehdákhwa'
(he) believes it thehdákhwa'
(what I) believe dwagehdáhgwih
(he is a) believer thowehdáhgwih
(she is a) believer dyagowehdáhgwih
(they are) belivers thoneñhdáhgwih
(I will) believe it eñtgehdáhgwa'
(I) believed it dagehdáhgwa'
(she will) believe eñdyagawehdáhgwik
(I didn't) believe that de'dwagehdáhgwih

(she has a) belly (ache) gotgweñ'danóñhwaks

below / under/ low ha'góñ•wa

bench adyeñdákhwes

berries ohya'shóñ'ah
(I will gather the) berries eñgahyáehga'
(every kind of) berry ha'deyohyagéh
(I dried) berries wa'gahyathá'da'
(he found) berries wa'hahyatshéñ•ni'
(I pick) berries gahyá•gwas
(I picked) berries wa'gahyá•gwa'

birch tree ona•góñhsa'

bicycle degní degaeñnani•yóñ•da' / gaeñnaniyoñdóñ•nyoñ'

(I am) big hgowá•neñh
(you are) big sgowá•neñh


bird ga•yo'áh
birds ga•yo'áh shoñ'áh
chick ga•yo'áh owiyä•'
blue jay hodehgá•kdih
cardinal thotgwíyä'
chicken gitgit
eagle sgaji'é•na'
flamingo oshesda'áh gayo'ah
goose gáhoñk
grouse ganoñnyagae'ih
hawk degaya'dákhwa'
heron degaeñhyagáhä•'
hummingbird ji'nhoñwä•ji'
loon hahoñ•weh
owl gwá•yeñh
parrot sha'shá
pheasant ganoñnyagae'ih
robin jisgá'ga'
swan onyaá'dagwa•doñ'
turkey nedahhéñhwah
woodpecker degaeñdajis'os


bird (nest) ga•yo'áh odeñ'náhseñ•'

(his) birthday heshohe•wih
(her) birthday hejyagohe•wih
(my) birthday heswakhe•wih
(your) birthday hejisahe•wih

biscuit degahä•khwakhahoñ'

bittern goñgahwah

black / coal oshwéñ'da'

blackberries deyo•deñ•ha'kdóñh

blacksnake/rat snake/thimble berry shaya'dés

(he is getting) blamed hodi•hwá•'sek

blanket oñthä•stha'

(I am) bleeding dwagetgweñhsó•da'

blue owéñhya'

bluejay hodehgá•kdih

blueberry / huckleberry ohyá•jih

(he has) bones hosdyéñ'dadah

book/paper/document gahyadóñhsä•'

bottle geñtshé'da'

(here I) bought (this for you) neñ wa'goñhni•noñ's

bow a'éñ·na'

bowl deyohsés

bottle geñtshé'da'

boy haksa'áh
(good) boy haksa'diyóh

(my) boyfriend ageñ•naweñ'da "my sugar"
(your) boyfriend señ•naweñ'da "your sugar"
(her) boyfriend goweñ•naweñ'da "her sugar"
(his) boyfriend howeñ•naweñ'da "his sugar"

bracelet deyoñ•dneñtshahnhákhwa'

(he acts) brave(ly) hatjinástha'

bread ohä·hgwa'
(lots of) bread ohä·hgwagá'de'
(there is) bread (in the basket) gahä·hgwadá ga'ahsä·góñ·wah

bright red otgweñhda·dá•gih

Brighton, NY Sga'néhso'

(I am) bringing it (with me) khá·wi'

broom adoñhweñjyóhsä'

(older) brother haktshi'áh
(younger) brother he'geñ'áh

(he) brought (the dog in) wa'hya'di•nyóñ'da ne jí·hah
(they) brought (them in) neñ hoñwadiyoya'dinyoñ'dih

brown ohesha'áh

bucket/pail/pot ganá'jya'

buffalo dege·yá'gih

(I) burn it géñ'da•s
(I put it in the fire to) burn góñthwas
(it) burns odékha'
(it is) burnt odé•geñh
(I will) burn it eñgéñ'da•k
(I) burned it wa'éñ'da•k
(he) burned it wa'héñ'da•k
(he) burned (a house) wa'hanoñhséñ'da•k
(he) burned (a boat) wa'khoñ•wéñ'da•k
(he) burned (the wood) wa'hayeñdeñ'dák

(he is) burning tobacco hayeñ'góñthwas

bus goya'danéñhgwik

butter owihsá•tha'
butter it swihsa•k

butterfly haná•weñh



C



cabbage onéhso'

(he) can go it hogwe•nyóñh
(she) can do it eñye•gwé•nya'
(we 2) can do it eñdni•gwé•nya'
can (you) do it eñhsgwe•nyá' kheñ

car / vehicle ga'sé•hda'
(in the) car ga'se•hdagóñ•wah
(I sell) cars gade'se•hdahní•noñk
(new) car ga'se•hdahsé'
(the) car (makes noises) ga'sé•hdaga•ks
(the) car (is demolished) ga'se•hdaihwéñthwih
(nice) car ga'se•hdiyóh
(nice) cars ga'se•hdí•yo's
(his) cars (are nice) ho'se•hdí•yo's
(someone has stolen the) car ga'se•hdanéñsgweñh
(he washed the) car wa'ha'se•hdoháe'
(he pulled the) car (out) wa'ho'se•hdótshya'
(Harry has a) car ho'se•hdá•yeñ' Hä•ri

cardinal thotgwíyä'

cake ohä•hgwaga;wih
(layer) cake dwgahähgwa'shä•'

canoe / boat gahóñ•wa'

(I take) care (of myself) agadadnóñsde'

(you be) careful s'nigoñhä•k

(he is a) carpenter hanoñhsoñnyaha'

carpet gayeñhsä•déñhda•'

carrots otgweñhdá•' niyokdehe•'déñh

(he is) carrying a body on his back hoya'dagéhde'
(I am) carrying it on my back ahgéhde'
(she is) carrying it on her shoulder gogéhde'

cat dagós

catch it dajye•náh
(I) catch it tgye•náoñs
(he will) catch it eñthaye•ná'
(he) caught dahaye•ná'

catcher thayé•naoñs

caterpillar ohohwáhneh

cattail/cigar ohé•hgwa'

Cayuga Gayo•gwéñ•ga'

cedar tree ohsohä'da'

(I put) ceremonies (through) Gi•hoñgotha'

cemetery tsha noñ hehoñwadi'noñhda•tha'

(it is) certain odo•géñ'ih
(it is not) certain hya gwás eñyodogeñ'íks
(it is) certain gado•geñh

chain saw degayeñdyá'khoñk

chair adyeñdakhwa' / oñdyeñdakhwa'

(I hade a) chance agade'shä•yeñ'

(you) cheated wa'she'nigoñ•ha'da'

(she has big) cheeks deyeyo'gowaneñ's
(on her) cheek ehä'gweñ'dá'geh

cherry jé•i'

chicken gítgit

Chief hoyá•neh

Chiefs swayanéshoñ'
(all of the) Chiefs hodiyanéshoñ' hadi•gwé•gih

children hadiksa'shoñ'áh
(they are nice) children hadiksa'dí•yo's

chipmunk jitsgéñ•yoñh

(the) chosen place tsha' nóñ•we ganakdá•gweñh

cicada Ogweñ•yó'da'

clam oji'noñwa'sáh

Clan Mother goyá•neh

Clans (our) oñgwa'seä•de•nyoñ'
Longhouse side gaye•i ganoñhsgéh ha•gwah
beaver honaga•ya'gih
heron degaeñhyagáhä•'
snipe odi'nehsi•yóh
turtle hanyáhdeñh
wolf hothahyoñ•níh

Mudhouse side dega'daägeh ha•gwah
bear ohgwa•ih
deer deyodijinaeñ'doñ•da'
eel ogoñde•na'
hawk degaya'dakhwa' / odishweñ'gai•yo'

(I am beaver) clan honaga•ya'gih nwa' wage'se•e'deñ'

clay / mud / mortar o'dá•ä'

(I have) cleaned (it) dewagadohdá•hwih

(I have) cleared (it) dewagadohdá•hwih

clock gahwisda'és

clothes gané'na'
gloves/mittens eñ'nyótshä•'
hat eñnoñhé'tshä•'
pants gahná'tsha'
scarf/necklace onihdyástha'
shirt/dress/coat ada'dawí'tshä'
shoes ahdáhgwa'
socks adä•hdí'tshä'

(i will put on my) clothes eñga•dya'dawí'da'

cloud otshí'gä'
(it is) cloudy otshí'ge•'
(it has) clouded (over) deyotshí'ge•'
(it will get) cloudy deñwatshí'gä•t
(it) clouded (over) wa'dwatshí'gä•t
(it became) cloudy (again) doñdawatshí'gä•t


clown jisdanoñdóhwih / shodahohwíh

coffee ohnegajíh

cold othó•we'
(it got) cold wa'wathowä•t
(it's) cold (outside) othó•we' ahsdéh
(the house is) cold ganoñhsanóh
(I am) cold agatho•wäs
(I got) cold wa'wagatho•wäs
(are you) cold? satho•wäs khéñh
(you will get) cold eñsatho•wä•sga'
(I'm not that) cold hiya tho de'wagatho•wäs
(maybe I might get) cold dyeñgwa' na' a•wagatho•wä•sga'
(he got) cold wa'hothowäsga'
(It will be) cold eñyothó•wek

collar (over native dress) oñthä•stha'

(I) collected (water) wa'khnegaéhga

colors ohsohgwa'shóñ'ah
black / coal oshwéñ'da'
blue owéñhya'
brown ohesha'áh
gray o'geñhä'áh
green ohgá'da'
orange oji'tgwaiyóh
pink oshesda'áh
purple jyeñgwáehsä•'
red otgwéñhda•'
white owä•hé'sda'
yellow / bile ojí'tgwa•'

(beautiful) color ohsohgwiyóh

comb ganahda'
(my) comb agnáhda'
(I) combed (my hair) wa'tgadodáihsya'
(she) combs (her hair) deyoñdodáihshya'
(his hair is) combed dehododaihshyóñh

(you) come (in) da•jyoñh
(you all) come (in) deswa•yoñh

compassion geñdeñhsä'

compete (in a game) dehadihnyótha'

(it is) completely (white) owähse'sdó•goñ'
(It is) completely (yellow) oji'tgwáegoñ'
(he is) completely (bones) (real thin) hosdyeñ'dó•goñ'
(It is) completely (muddy) o'dáegoñ'

(female) cook/chef ekhoñ•nyáha'
(male) cook/chef hakhoñ•nyáha'

(I) cook gekhoñ•nyáha'
(I am) cooking agekhoñ•níh
(it is) cooked gakhoñ•níh
(she) cooked it gokhoñ•níh
(it has been) cooked ne' ná gakhoñ•níh
(she) cooked wa'ekhóñ•nya'
(I will) cook eñgekhóñ•nya'
(I used to) cook gekhoñnyaháhgwa'
(she) cooks (for him) hoñwakhoñnyeñník
(you) cooked (for me) wa'sgekhóñ•nyeñ'

cookies/goodies oga'wishóñ'áh

corn onéñha•'

(blue) corn oneñhageñä•dah oweñhya'
(braid of) corn osdeñ'shä'
(calico) corn oneñhageñä•dah hwa'dyosohgwagéh
corn (bread) gage•hotshyoñh
corn (cob) ganoñhgweñ'ya'
(tip of) corn (cob) ogoñhseeñ'da'
(green) corn oneñhahsé'
corn (husk) ono•ya'
(one kernel of) corn jyonéñhadah
corn (silk) ohehgo•da'
corn (stalk) ohe•yä'
(string of) corn gasgeñ'shä•'
(white) corn oneñhageñä•dah
(blue) corn oneñhageñä•dah oweñhya'
(red) corn oneñhageñä•dah otgweñhda•'
(calico) corn oneñhageñä•dah hwa'dyohsohgwagéh
(she has lots of) corn goneñhagá'de'


corn pounder ga'nigáhda'

corn soup oneñhóhgwa'

couch oñdoñwisheñdákhwa'

(you all) count swashet

courage ga'tshatsdeñhsä•'

(my) cousin oñgya•ä'se'
(their) cousin hona•ä'se'
(your) cousin jya•ä'se'
(us 2 are) cousins oñgyáä'se'
(we are all) cousins oñgwáä'se'

(you) cover (your mouth) satshohgah

cow dyohnhósgwaeñ•t

crab (claw) oji'é•ä'

cracker ohä•hgwathéñh

cradleboard gaehóñhsä'

(he) cramps (up) hohwehnáoñs

cranberry sauce wahyok gajisgoñníh

crawl sade'sé•k
(I am) crawling gade'sé•'

crayon oñhsotha'

(he is acting) crazy dehonihyéñ•ha'
(I am a little) crazy sthwiháh dewagnihyéñ•ha'
(he went) crazy wa'thonihyéñ'
(he has gone) crazy dehonihnyéñ'
(I act) crazily dewageñnihnyéñha'
(he was) crazy wa'thoníhnyéñ'
(he drives her) crazy deshagonihnyéñdákhwa'
(he is driving her) crazy deshagonihnyéñdáhgwih
(He drove me) crazy wa'thageñnihnyeñdáhgwa'

(I) created it wa'goñ•nya'

Creator Shoñgwaya'dihsá'ih

cricket jinoñhsanóh

crow ga'ga'

crowd geñdyóhgwa'

(he made her) cry wa'shagoji'dóñ•nya'

(she is a) crybaby goji'danéñh

(I am) crying degashéñthwas

cucumber odnoñsgwáeñ·níh

cup gana'jyó•sgwa'

(I) cut (into it) khé•nas
cut it up dejya'khóñh



D

(my) dad k'niháh

dam gahnegahnhó•doñ'

dance Ganoñ•nya'

(he) dances dehátkhwa'
(he is a) dancer dehátkhwa'
(he is a good) dancer hanoñ•nyá•yeñk
(I am) danceing dewagátkhwa'
(I know how to) dance gnoñnyá•yeñk
(she) dances deyóñtkhwa'
(she is) dancing deyótgweñh
(she is a) dancer deyóñtkhwa'
(we all will) dance deñdwátgwa'
(it) dances dewátkhwa'
(they two) danced wa'thyátgwa'
(she) danced (Womens Dance) wa'dyoñtgwá' eñsgá•nye'
(you had) danced desatgwéñhna'
(they will put on a big) dance déñhoñtgwa'gó•nah
(he is) dancing (along) dehotgweñhá•dye'
(I am) dancing (along) dewagatgweñhá•dye'
(they had a great) dance wa'ganoñnyowánha'
(I am) dancing dewagátgweñh

dandelion ji'tgwá•' niyaweñho'déñh

(it is) dangerous deyode•yéñ'tha•t
dangerous (place) tsha' nóñ•we dedyode•yéñ'tha•t

(it is getting) dark deyo'ga•hwihá•dye'

(are they) dating dehyadatgéñha' khéñh

(my) daughter khehá·wah
(my) daughter (in law) khehsá'wah

(at) dawn heñ'géhjik

dawning (its coming day there) dayo•heñ'ihá•dye'

day wéñ•de'
(as the) day (dawns) ó•heñ's
(It is a) day weñdá•de'
today néñgeñ weñdá•de'
(every) day ha'deweñdagéh
(all) day (long) eñda•gwé•gih
(mild) days oweñdaná•weñh
(chilly) day aweñdanóh

(all) day (long) eñda•gwé•gih

day after day eñda•dé•nyoñ'

days of the week
Aweñdeñ•dá'ih Monday
Degní wadóñ'tha' Tuesday
Ahséñ wadóñ'tha' Wednesday
Gayé•ih wadóñ'tha' Thursday
Hwíks wadóñ'tha' Friday
Eñdákda' Saturday
Aweñdado•géñhdih Sunday

daytime eñdiyó'geh

(he is) dead haweñheyasjíhweñh
(she is) dead gaweñheyasjíhweñh

death ne' geñhé•yoñ'

(he is) deceased shodoñgóhdih

deer sgeñneñdóñ' / sgeñnoñdoñ

(it is really) delicious oga'wiyóh

(don't) despise (it) ahgwíh eñsgéñhä's

devil haeñhsí'se•'

(it is) difficult/slow gayó'de'

(it is) dirty ótgi'
(he is) dirty hótgi'
(it gets) dirty otgí'khe's
(it has gotten) dirty ótgih
(it will get) dirty eñyotgí'khe'
(I got) dirty oñga•dya'datgí'khe'

(I am) disappointed/sorry/sad gehnha•déñha'
(he is) disappointed/sorry/sad hahnha•déñha'

(it is being) discussed deyodétha•'
(it will be) discussed deñwadethá•eñ'
(the will have a) discussion deñhadithá•eñ'
(they are) discussing (something) dehadithá•gwas
(they have) discussed it dehodithá•gweñh
(they will) discuss it deñhadithá•gwa'
(they had a) discussion wa'thadithá•gwa'
(they used to have) discussions dehadith•gwásgwa'

(I am) disgusted ahgeñhä'sek

dish gáksa'

(I got) dizzy wa'tgeñnoñ' wa•wéñ•ye'

(he is a) doctor hadé•jyeñ'ts

dog jí·hah
(good) dog hanasgwiyóh ji•hah
(he has a good) dog honasgwiyóh ji•hah
(he brought the) dog (in) wa'haya'di•nóñ'da' ne' jí·hah

donkey dewahóñhdesny

doll gayá'da'

door gahnhóhwa'

donkey / mule dewahóñhdes

don't áhgwih

dough oshe'ä'

(I) draw (pictures) gya'da•sdahéñ•k


dream / sleep gaihsé•hda'
(it was revelaed in a) dream owihseñhdagóñ•wa nidyawehdáhgwih

(I am) dreaming agi•hseñ•hdákseñhs
(he is) dreaming howihseñ•hdákseñhs
(I) dream (of her) kheihseñ•hdákseñhs
(she had a) dream gowihseñ•hdakséñ'ih
(did you) dream we'saihseñ•hdakséñha'
(I will) dream eñwa•gi•hseñ•hdakséñha'
(I) dreamt oñgi•hseñ•hdakséñha'

dress/shirt adya'dawí'tshä•'

(he is getting) dressed hahseñ•nyáha'
(she is) dressed gohseñ•níh
(I got) dressed wa'gahséñ•nya'
(he will get) dressed eñhahséñ•nya'

(I) dressed up (as a ghost) gasdeñ•na' wa'gadadoñ•nya'
(you) dressed up (as a ghost) gasdeñ•na' wa'sadadoñ•nya'
(she) dressed up (as a ghost) gasdeñ•na' wa'oñdadoñ•nya'
(he) dressed up (as a ghost) gasdeñ•na' wa'hadadoñ•nya'

(I) drink khne•gí•ha'
(I am) drinking khne•gí•ha'
(he) drinks (milk) onoñhähsa' hahne•gí•ha'
(I will) drink eñhné•gihä'
(I drank) water wa'khne•gí•hä' ohné•ganos
(I gave you something to) drink wa'goñ•nóñ•da' sdeñ' gwa' nwáho'deñ'
(you) drink it shnegiheñh
(you all) drink it swahnegiheñh
(you all) drink it dwahnegiheñh

drizzle/sprinkling gasdaeñgohseñ•k

(he has) drowned ho'sgó'ih

(it is) dry o•héñh
(are your clothes) dry o•heñ kheñ sané'na'
(on) dry land aoñhwejyathéñ'geh
(it got) dry wa'ga•héñha'
(my throat is getting) dry genya'datheñhs

dyer eha'dákhwa'

drum gana'jyó•wih

(he is) drunk honoñhwahdóñ'ih
(I am) drunk agnoñhwahdóñ'ih
(they got) drunk wa'hodihne•gó•nas

duck só•wäk


E


eagle sgaji'é•na'

ear ohóñdá'

(I) earn (money) gathwisdoñnyáha'
(how much he) earned tsha' niyóñ hó•gweñh

(she is wearing) earrings deyagot'wáshaeñ'
(I put on) earrings wa'tgat'washáeñ'
(she will put on) earrings deñyoñt'washáeñ'

(it is) easy wadyehsá'geh
(it is going to be) easy eñwa•dyehsá'geks / eñwa•dyehsá'gek
(he is) easy (going) hodyehsá'geh

earth ne' oñhwéñ•jya'geh
(on the) earth oñhweñ•jyá'geh
(here on) earth tsha' oñhweñ•jyá'de'
(all over the) earth / world oñhweñ•jyagwé•gih

earthquake deyaoñhweñjyéñ•doñs / wa'dyaoñhweñjyé•doñ'

(there is an) eclipse odä•hgwahdóñh
(there will be an) eclipse eñwadä•hgwáhdoñ'

(it is) easy wadyehsá'geh
(it is going to be) easy eñwa•dyehsá'geks

(you) eat it ihsek
(you all) eat it iswek
(let's all) eat it idwek
(you all) eat together deswadoñt
(let's all) eat together dedwadoñt
(you) eat the meal sadekhoñ•nyah
(you all) eat the meal swadekhoñ•nyah
(you all) eat the meal dwadekhoñ•nyah


earthworm oji'noñwahnhé'da'

(you should) eat a•hsadekhoñnya'
(she should) eat a•yoñdekhoñnya'
(she will) eat eñyoñdekhoñnya'
(you will) eat eñhsadekhoñnya'
(I am) eating agadekhoñ•níh
(you and I will) eat (together) deñdya•doñt

eel ogoñ•dé•na'

egg o'nhóñhsa'
(boiled) egg o'nhóñhso'
(colored) egg o'nhoñhsahso•hwih
(let's all color) eggs dwa'nhoñhsahsok
(you eat the) egg se'nhoñhsak
(you all eat the) eggs swa'nhoñhsak
(I hid) eggs wa'ge'nhoñhsahsehda'
(you look for) eggs se'nhoñhsihsak
(you all look for) eggs swa'nhoñhsihsak
(I found) eggs wa'ge'nhoñhsatsheñ•ni'
(you found) eggs wa'se'nhoñhsatsheñ•ni'
(my) egg (broke) wa'tge'nhoñhsahi•'nha'
(your) egg (broke) wa'tshe'nhoñhsahi•'nha'

eight dé•geñ•'

eighteen dé•geñ•'gáhe•'

eighty dégéñ•' niwásheñh

elephant dega•yóñ•des

eleven sgá•da gáhe•'

elm tree ogoñhä'da'

(you) erase it säge•wah

(someone will) escape eñeyagéhda'
(he) escaped dahayagéñhda'

(everything is) equal tsha'deyohdihá•dye'

extremely óñhdeh

eye ogáhä•'
(you have piercing) eyes sagahä•dét
(he has) eyes dehagáhä•dah

eyelashes ogahé•hda'

(it is) exactly right odo•géñ'ih



F
(he has a nice) face hagoñhsiyóh

(he) fails honó•weñk
(I) failed wa'wa•gnowéñ'
(he will) fail eñhohowéñ'

(she is a) Faithkeeper Godi•hoñ•da'

family akhwají•yä'
(his) family hohwají•yä'

far í•noñh

(she is a) farmer eyéñthwas
(he is a) farmer hayéñthwas
(male) farmer haheñda'gehé·noñ'
(female) farmer eheñda'gehe•noñ'


(he is) farting deheñni'dóhwih
(he) farted wa'theñ•ní'dok

fast osnó•we'
(I am) fast gesnó•we'
(I am moving) fast gya'dasnó•we'
(they are running) fast osnowé' dahadidákhe'
(she used to move) fast eya'dasnowéhgwa'
(it is going too) fast aoñgohdí tsha' osnó•we'

(it is) fat oshéñh
(I am) fat agashéñh
(she is) fat goshéñh
(he got) fat wa'hásheñ'
(he will get) fat eñhásheñ'

father hak'niháh
(my) father ak'niháh
(my) father (in law) hakshá'wah

(you are at) fault ís sní•hwa'
(you two may be at) fault dyeñ gwa'na' is sní•hwa'

feather ohä•'da'

(he has) fed (her) shagokhwanoñ•déñh
(you) fed (them) wa'shekhwanóñ•da'
(you) fed (them again) sashekhwanóñ•da'

(I want you to) feel better gehe' asadoñgwetha'
(I am not) feeling better hya de' gadoñgwétha'
(I) feel better (now) gadoñgwetha' oneñ

ferret gaya'dadáhgwa's

(small) field nigaheñda'áh
(on the) field gaheñ•dá'geh
(along the) field gaheñdakdóñ•dye'
field (on a hill) gaheñ•dáhä'

(it is) fierce deyodeñnoñhyaníhdih

fifteen hwíks gáhe•'

fifty hwíks niwásheñh

fight/warfare ade•yóhsä•'
(they are) fighting hona•de•yóh
(I am a) fighter gadé•yos
(he is a) fighter hadé•yos
(I am) fighting aga•de•yóh
(he will) fight eñha•dé•yo'
(they) fought (2) wa'hya•dé•yo'
(I used to) fight gade•yósgwa'
(she used to) fight oñde•yósgwa'
(he has been) fighting hode•yóhna'

fin ojyóñ'da' oyá·da'

fire odékha'
(it is a great) fire gajisdowá•neñh
fire place gajisdá·yeñ
(he made a) fire wa'ha·jisdóñ·nya'
(their) fire / wampum hodijísda'
(next to to the) fire ojisdákda'
(around the) fire ojisdakdóñ•dye'
(they may join them at the) fire / council meeting a•ye•jisdá•'nha'
(strong) firelight ojisdadét
(the principle) fireplace gajisdagwe•ní•yo'
(the) fire (is going good) wa'gajisdi•yó'khe'
(are you the) fire keeper sjisdanóñhna'
(it is a great) fire / wampum gajisdowá•neñh
(I have a) fire akjisdá•yeñ'
(she pokes the) fire ejisdahéhseñ•k
(he has poked the) fire hojisdahéhseñ•'
(I will poke the) fire eñkjisdahéhseñ•'

firecracker wada'geñhádahyá'tha'

(they are the) Firekeepers honatjisdané•doñ'
(he is the) Firekeeper hotjisdané•da'

firefly jisdeñnó•geñh

Firehouse/community center Tsha' Thoñ'swatha'

fireman ha'swátha'

firewood gaéñ•da'
(she gathered the) firewood (there) hwa'eyeñdá•gwa'
(my) firewood agyéñ•da'
(he will go get) firewood eñhayeñda•gwáha'

fireworks wadä•'negáäheñ•'

fish ojyóñ'da'
bluegill oweñhya wadoñ•yesdakhwa' (listen)
brook trout ohnawahnhóñ•da' (listen)
bullhead hanóñ'wa' (listen)
carp heñ'daä•gä•s (listen)
channel catfish hoda'gái•de' ojyóñ'da'
catfish hoda'gái•de' ojyóñ'da' (listen)
eel ogoñ•dé•na' (listen)
large mouth bass ohweñ'da' (listen)
northern pike gana'jyó•da' (listen)
pickerel sgagoñhsés (listen)
rainbow trout ohnawahnóñ•da'
salmon ojoñ'dówaneñ's (listen)
small mouth bass ohweñ'da'
walleye sgagahétgeñh (listen)
white sucker onoñhwáiyoh (listen)
yellow perch deyoya'dasdá•thek (listen)

(he will) fish Eñhatsyi•ye'

(I am a) fisherman Gatshyi•yek
(he is a) fisherman Hatshyi•yek
(she is a) fisherman Oñtshyi•yek

(I am) fishing agatshyiyéh

five hwíks

(he) fixes (things) hadogéñstha'

flame gaháhsä•'

flamingo oshesda'áh gayo'ah

flint jisdadahya'dákhwa' / oha•á'

(I am usually) first tga•dyéñ•tha'
(I was the) first (one) dwaga•dyéñ•hdih
(we all were the) first (to arrive here) dyoñgwa•dyéeñhdih oñgwa•yóñh ne' tho neñh
(the) first (time) dawa•dyéñ•hda'
(he was) first daha•dyéñ•hda'
(I was the) first (to do it) daga•dyéñ•hda'

(he is a) flirt hó'deh
(they are all) flirts honí'deh
(I am a) flirt agí'de'

(they are) floating along honada'gä•hgwihá•dye'

(it is) flooding wahnó•doñk
(it is) flooded ohnó•doñ'
(it) flooded wa'wahnodóñ'

flute oñweñ'dákhwa'

fly otshéñ'da'

flying head ganoñ'waeñ•dye's

(it is) foggy deyaoñyóhwih
(it will get) foggy deñyáoñ•yok

food dyoñhéhgwih
apple swahyó•nah
banana oná'ga'
bean ohsahé'da'
(green) beans detgweñ'dya'khoñ'
berries ohya'shóñ'ah
biscuit degahä•khwakhahoñ'
blackberries deyo•deñ•ha'kdóñh
bread ohä·hgwa'
blueberry ohyá•jih
butter owihsá•tha'
cabbage onéhso'
cake ohä•hgwaga;wih
carrots otgweñhdá•' niyokdehe•'déñh
cracker ohä•hgwathéñh
cookies oga'wishóñ'áh
corn onéñha•'
corn soup oneñhóhgwa'
cucumber odnoñsgwáeñ·níh
egg o'nhóñhsa'
(boiled) egg o'nhóñhso'
fish ojyóñ'da'
grapes ohyoñ•gwí'shä•'
honey/ sap/ gum oshésda'
hotscoon degahä•hgwageñ•i'dahwih
hotdog gahetshawethá•hwih
ice cream owihsanóh
lemon ohyajiwá•geñh
lettuce onä•hda'
meat o'wáhä•'
milk onoñhä•hsa'
milkweed owä•hgwéñ'sda'
mush ojísgwa'
mushroom ogeñ•yó'da'
nut ohsó'gwa'
onion o'nóñhsa'
onion (wild) o'noñhsó•ya'
orange (fruit) okhahóñ' óhya'
pancake owä'wísda'
pea oné•gwa'
peach ogoñ'nhwáe•wih
pear goñdihsohgwés
(black) pepper dyohsáet
pie wahya•dah
(cherry) pie jye•i' wahya•dah
potato oneñ•nóhgwa'
(mashed) potato deganeñnohgwahihdih
pumpkin ohnyoñhsówaneñ's
radish niyokdehä's'áh
raspberries ona'jyóhgwa'
salt ojikhé'da'
soup ohne•gá•gi·'
squash ohnyóñhsa'
strawberry oheñdadekháhgwih
sugar oweñnawéñ'da'
zucchini ohnyóñhses

forest tsha' tga•hó•da'
(in the) forest gä•hagóñ•wah
(it is a) forest ga•há•yeñ'

(she) forgets jyago'nigóñ•heñhs
(he will) forget eñsho'nigoñ•héñha'
(I have) forgotten swak'nigoñ•héñ'ih
(did you) forget jisa'nigoñ•héñ'ih khéñh
(I) forgot sawak'nigoñ•héñha'
(I am) forgetful swak'nigoñ•héñtsgoñh
(I shouldn't) forget hya thawak'nigoñ•héñha'

forgiveness gaihwisdeñni'sha·'

(he asked her to) forgive (him) sashagodathe•wáhdéñ'

(he) forgives (me) hagi•hwiyósdeñnik

fork oñdekhwa'esdákhwa'

forty gayéi niwásheñh

for sure gwás eñyodogeñ'íks

(it will be) found out eñgadogéñha'

four gayé•ih

fourteen gayéi gáhe•'

fox sgeñhnákseñh

(he is) free hada•dweñní•yo'
(it is) free wada•dweñní•yo'
(they will be) free eñyoñdadweñniyók


Friday hwíks wadóñ'tha'

(my) friend oñgyátshí'
(their) friend honátshí'
(your) friend jyátshí'
(he is a good) friend hatshihsiyóh
(it will be a good) friendship eñwatshihsi•yók
(he is the best of) friends thatshihsi•yóh

frog sgwá'ä•k

frybread gahä•hgwageñi'dá•hwih

(it is) frozen onoñ•nyá•yeñ'

fruit / berry óhya'
(dried) fruit ohyathéñh

(I am) full agahda'h

(it is) fun aweñtgá•de'
(she is) fun gaweñtgá•de'
(I have) fun gadeñtgá•doñk
(I am having) fun agadeñtgá•doñ'

fur ohóhwa'
(dog) fur jihá ohóhwa'




G
(they are) gamblers dehadiyéñha'

gate wat'eñhäniyó•da'

(I) gather geéts
(I have) gathered (things) agé•hwih
(it has been) gathered gaéhwih
(he) gathered (it) wa'haéhga'
(I will) gather eñgé•hga'
(I will) gather (together the berries) eñgahyáehga'
(they) gathered (sap) hadihnegaéts oweñ•dá•gi•'

George Washington/President Hanadagá•yas

(I did) get up wa'gatgeñha'
(you should) get up a•hsatgeñha'
(he) gets up hatgéñhas
(he has) gotten up hotgéñheñh
(I will) get up eñgatgéñha'
(you) get up satgéñhah

(he is) getting it há•gwas

ginger, snake root otsgweñí'da'

giraffe tga'nya'es

girl eksa'áh
(she is a nice) girl eksa'di•yóh

(my) girlfriend ageñ•naweñ'da "my sugar"
(your) girlfriend señ•naweñ'da "your sugar"
(her) girlfriend goweñ•naweñ'da "her sugar"
(his) girlfriend howeñ•naweñ'da "his sugar"

(I) give gadá•he'
(she has) given ago•dá•wih
(he will) give (it) eñhá•doñ'
(she) gave (it) wa'óñ•doñ'

ghost/skeleton gasgé•na'

gloves/mittens eñ'nyótshä•'

(I) glue it gä•'neñdáktha'
(he) glues it haä'neñdáktha'
(she has) glued it gowä'neñdákdih
(she) glued it wa'eä'neñdákda'
(he will) glue it eñhaä'neñdákda'

(I) go back (noe and then) sgákdoñs
(she has) gone back jyagókdoñh
(she ma) go back oñ•sayóñkda'
(he would rather) go back oñ•dahaägwa' oñ•sahákda'
(they went) back (again) sahóñkda'
(us 2 should) go back oñse•dyákda'
(I will) go back eñgákda'

(the) goal dwadeñhnhoho•da'
(he is the) goalie dehahnhohotha'

goat gaya'dá•gä•s / géñhse•'

gold gahwisdanó•weñ' oji'tgwáegoñ' / oji'ygwaegoñ'

good oyá•ne•'
(it will be) good eñyoyané•k
good (bed) ganakdiyóh
(it is a) good (car) ga'se•hdiyóh
(they are) good (children) hadiksa'dí•yo's
good (corn) oneñhiyóh
good (dog) honasgwiyóh ji•hah
(he is a) good (friend) hatshihsiyóh
good (house) ganoñhsiyóh
(he is) good (looking) hoya'da•yéñsdih
(she is) good (looking) goya'da•yéñsdih
(you are) good (looking) saya'da•yéñsdih
good (road) ohahiyóh
(I have a) good (spouse) agnahgwiyóh
(it tastes) good oga'wih
(it tastes really) good oga'wiyóh

(I feel) good sgeñnóñ' geñnoñhdóñ•nyoñk

good bye onéñ gó•'

good luck wadä•'shwiyóh

Good Message Gaihwiyóh

goodies oga•'wi'shoñ'áh

goose gáhoñk

gossip / they say yá•geñ'

(he) gossips dehaihwayéñthwas

(I) got it wa'gé•gwa'

(my) Grandma akshodaháh
(your) Grandma sahsodaháh
(his) Grandma hohsodaháh
(her) Grandma gohsodaháh

(my) Grandpa hakshodaháh

(they have suffered) grief honahsoñdayeñdá'ih

(they are) grieving honatgaeñ•níh

(It is a) ghost gasdeñ•na'

(you saw a) ghost wa'disadyeñ•nyoñ's
(I saw a) ghost wa'dwagadyeñ•nyoñ's
(she saw a) ghost wa'dyagodyeñ•nyoñ's
(he saw a) ghost wa'thodyeñ•nyoñ's

(he) grabbed (it) wa'hahawíhda'
(i) grabbed (a knife) daga'shaeñhawíhda'

(my) Granddaughter kheyá•de•'

(my) Grandson heyá•de•'

grapes ohyoñ•gwí'shä•'

grass ojigó' jya'

grasshopper jisdá•eñh

gratitude ganoñhéñ•nyoñ'

gray o'geñhä'áh

Great Law Gaya•neñ•hsä•'gó•nah

Great Tall Tree Sgaeñheji' gó•nah

green ohgá'da'

Greeting (Thankful you are well) Nya•wéñha Sgé•noñ'

(they are) grieving honatgaeñ•níh

groceries adeñ•ná'tshä'
(I have) groceries agadeñna'tshä•yeñ'

grocery store dyoñdekhwahní•noñk

(it) grows wadoñ•nyáha'
(it is) growing (a lot) iswá' odoñníh
(it) grows (free) wadó•dyas
(he is) growing (up) hadó•dyas
(she is) growing (up) oñdó•dyas
(it will) grow eñwadodyá•ga'

(he has) grown (up) hodó•dih
(I am a) grown (up) agadó•dih
(it has) grown (a lot) iswá odó•dih
(he will) grow (up) eñhadodyá•ga'


(he is a) guard hoya'danóñhna'
(I am a) guard agya'danóñhna'

gum / honey / sap oshésda'

gun gahsóñ•wä'



H

hair onoñ'khwé'ä'
(my) hair agnoñ'khwé'ä'
(his) hair honoñ'khwé'ä'
(he has long) hair honoñ'khwe'és
(my) hair (is black) agnoñ'khwe'ä•jíh

hair curler deyoñ•dnoñhgi•sdákhwa'

Halloween tsha' dyoñtgoñhsa•ha'

(he is) handsome hoya'da•yéñsdih

happiness adoñ•nháhä•'

(I am) happy agadoñnháhä•'

hat eñnoñhé'tshä•'
(put your) hat on señnoñhe•hgah

Haudenosaunee Hodinoñhshyoñ•nih
1. Mohawk Ganyeñ'gegá'
2. Oneida Hadiyeñyótga•'
3. Onondaga Onoñda'gegá'
4. Cayuga Gayo•gwéñ•ga'
5. Seneca Onoñdowa'gó•na
6. Tuscarora Hoñdasgáeyeñ


haunted dewa•dyeñ•nyóñtha'

hawk degaya'dákhwa'
(red-tailed) hawk oshweñ' ga•iyo'

(he has a) headache honoñ'wa•nóñhwak

headdress gasdó•wä•' / geñsdo•wá•'

(I) heard agi•hwahéñ•geñh

heart (heart shape) ganoweñkhwahsá•hgwih
(he has a) heart hawe•yáhdadah

help (me) dagya'dagéhnhah
(I will) help them eñkheya'dagéhnha'
(he) helps out haya'dagehnháha'
(I will be) helping (them) eñkheya'dagéhnheñk


hemlock onéñ'da'

here tho néh / neñh / neñ

(great blue) heron degaeñhyagáhä•'

heron/ swan onyaá'dagwa•doñ'

Hiawatha Hayeñhwatha'

hickory heñnék

hill onoñ•dó•da'
(beautiful) hill onoñdiyóh
(big) hill dyonoñ•dáhä•'
(high) hill onoñ•dés
(top of the) hill dyonoñ•dáhä•'

hippopotamus sga'nyoñgaheñwagó•nah

(I) hit (the target) wálkhä'
(did you) hit (the target) wá'shä' kheñh
(he will) hit (the target) eñháhä'
(I) hit (it) wa'gyéñhda'
(he) hit (her) wa'shagiwéñhda'
(you) hit (it) hejyéñhdah
(he is) hitting (me) hahgóñhgwas
(he) hit (me with a stick) wa'hage'nhyayéñhda'
(I will) hit (you with a stick) eñgoñ'nhyayéñhda'
(he) hits (it) hayéñtha'
(it has) hit (him) hoyéñhdih
(he has) hit (it) hayéñhdih

(go) home! sasahdéñ•dyah
(I will stay) home eñgi'deñda•k
(you stay) home ji'deñ•dak
(you all stay) home sweñ'deñ•dak
(time to go) home hwa'gahék oñ•seswahdeñ•dya'
(his) home nóñ•weh thadyeñdákhwa'
(he goes) home shahdéñ•dyoñs
(she has gone) home jyagohdeñdyóñh
(he went) home sahahdéñ•dya'
(I will go) home eñsgahdéñ•dya'
(we all went) home sedwahdéñ•dya'
(you all went) home seswahdéñ•dya'
(we all should go) home oñ•sedwahdéñ•dya'
(they returned) home (together) tsha' doñsahoñhdéñ•dya'

honey / sap / gum oshésda'

(I am) hoping age•há•e'
(he is) hoping ho•há•e'
(she is) hoping deyagodeñ•nóñ•da'
(they will really be) hopeful deñyagodeñ•nóñ•dak

horn / banana oná'ga•'

horse gohsá•deñs

horsefly ga'nekhwáhgweñh

hospital thodinoñhwákdanik dehoñwadísnye'

hot o'dáiheñh
(I am) hot aga'daihá'sek
(he is) hot ho'daihá'sek
(are you) hot/sweating? sa'daihá'sek khéñh

how do•
how (it is) tsha' ní•yot
(that is) how (it is going to be) né' tho neñyóhdik

hotscoon degahä•hgwageñ•i'dahwih

hotdog gahetshawethá•hwih

house ganoñhsá•yeñ'
(nice) house ganoñhsiyóh
(at the) house ganoñhsá'geh
(in the) house ganoñhsgóñ•wah
(under the) house ganoñhsagóñ•wah
(everywhere within the) house ganoñhsgoñwáshoñ'
(one) house sganóñhsadah
(the) house (burned) wa'onoñhsadé•ga'
(all around the) house ganoñhsakóñ•dye'
(I completed my) house wa'ga•dnoñhsíhs'a'
(he made a) house hodnoñhsoñníh
(he raided the) house wa'hanoñhsgá•ya'
(abandoned / old) house ganoñhsagayóñshä'
(I saw your) house wa'gnoñhsá•geñ' ne' sanóñhsa'
(it is a sturdy) house onoñhsahní•h
(cold) house onoñhsanóh
(he has a cold) house honoñhsanóh
(the) house (is getting cold) onoñhsanohá•dye'
(he has built a) house (for her) shagonoñhsoñnyeñníh
(she has several) houses gonoñhsayéñ•doñ'
(my) house agnoñhsá•yeñ'


(I am) hungry akshís
(he is) hungry hohsís
(I will be) hungry eñwakshíhsek
(she will be) hungry eñagohsíhsek
(he was) hungry hohsísgwa'


humming bird ji'nhoñwä•ji'

(one) hundred sgadá deweñ'nyá'éh

hunter Hadó•wäts
(he is) hunting hodo•wä•dih
(I) hunt gadó•wäts
(I will) hunt eñgadó•wät
(let's us two) hunt dyadó•wät
(he used to be a) hunter hadowätsgwa'
(he had been) hunting hodowädíhna'

(I got) hurt agnoñhyá'gih

hurry up sasnowéñh
(you will) hurry eñhsasnó•weñ'

(my) husband héksdeñ'




I


I (me) í'

ice owíhsa'
(on the) ice owihsá'geh
(I am on the) ice owihsá'geh i•ge's
(good) ice owihsiyóh

ice skates deyoñdo'jinehdakhwa'
(do you have) ice skates? desado'jinehdakhwahsä•yeñ' kheñh
(go get your) ice skates segwahah ne' desado'jinehdakhwa'
(I am going) skating wa'tgado'jinehdahne'
(let's you and I go) ice skating dedyado'jinehdahna'
(do you want to go) ice skating (with me?) se•he' kheñh deñdyado'jinehdahna'
(do you want to go) ice skating (with us?) se•he' kheñh deñdwado'jinehdahna'
(I went) ice skating (yesterday) wa'tgado'jinehdahna' ahse•deh

icicle gawihsoñ•da'
icicles gawihsoñoñ•nyoñ'


(it's) icy owihsadeñhda•'
(it's getting) icy dayowihsada•dye'
(it got) icy wa'gawihsadeñhda•k
(it is getting) icy (be careful driving) na'deyowihsada•dye' s'nigoñhä•k eñhsado•ya'

ice cream owihsanóh

(I have an) idea agí•hwadah

(it is) important owihowá•neñh
(there will be) important matters eñyowihó•waneñks
important matters owihówaneñ's
(she feels) important oñdatgowá•neñh
(he feels) important hadatgowá•neñh
(she is) important eya'danó•weñ'
(those two are) important dehniya'danóweñ'

(I am) in charge (of it) gasdéistha'
(who is) in charge? sóñ hosdéisdih
(she is) in charge gosdéisdih
(she was) in charge wa'esdéisda'

indigenous oñgwehoñwe'

infant / baby owí•yä

inside ganónk
(he is) inside (it) hayá'dadah

(he is) intelligent ho'nigoñhe•wá•neñh

intercept it dehsnoñ'nha•gwah
(he will) intercept it deñhanoñ'nha•gwa'
(he) intercepted it wa'hanoñ'nha•gwah

(he has) intestines hoyóñwädah

ironwood sgaeñdagásda'

(they are) ironworkers hadiyä•de's



J


Jack o lantern gagoñhsoñ•da' ohnyoñhsowa•neñh

jackrabbit dahoñhdané•geñ'

jail thoñwadihnhodóñkhwa'
(I am in) jail gehnhó•doñ'
(he is in) jail hahnhó•doñ'
(she will be in) jail eñyehnhó•doñk

Jamesville Gahsóñhdo'

(I am) jealous agahgá•heñh
(you are) jealous sahgá•heñh
(she is) jealous gohgá•heñh
(he is) jealous hohgá•heñh
(he will be a) jealous person eñhohga•heñ•k
(he gets) jealous hohgá•heñhs
(he will get) jealous eñhohga•héñha'
(I got) jealous wa'wagahga•héñha'
(he is) jealous (of her) shagohga•hä'sek
(he used to be) jealous (of her) shagohga•hä'séhgwa'

jealousy ahga•héñhsä•'

(he is) jumping deheñna'sgwákhwa'
(I have) jumped (up) dewageñna'sgwáhgweñh
(she will) jump (up) deñyoñna'sgáhgwa'
(he) jumped (up) wa'theñna'sgwáhgwa'

junk sdeñ' de'gástha'




K

(you) keep 6 feet apart (an other) ahya'k niyohsi'dagéh tsha' na'dejya•de•k
(you two) keep 6 feet apart (from others) ahya'k niyohsi'dagéh tsha' na'deswa•de•k
(you) keep 6 feet apart (from us) ahya'k niyohsi'dagéh tsha' na'dedya•de•k

kickball / play soccer / football haähséñthwas

(he is) kicking haähseñthó•gwas
(he has) kicked (the ball) howähseñthwíh ne' eñ'nhétshä•'
(she) kicks oñwähséñthwas
(are you) kicking? saähséñthwas

(the) kind (of color it is) niyohsohgo'déñh
(what) kind (of fruit it is) niyohyo'déñh
(what) kind (of tree it is) tho nigaeñdo'déñh
(the) kind (of dream I had) ne' tho niwa•gi•hseñ•hdo'déñh
(the) kind (of animal it is) niga•yo'do'déñh

kindness/love ganoweñkhwahsä•'
(you all will be treating each other) kindly deñswadadnoweñkhwák
(we all act) kindly (to each other) dedwadadno•wéñhgwih

(he) kisses (her) shagohsóhgwaks
(he) kissed (her) wa'shagohsóhgwak
kiss (her) sheshóhgwak
(give me a) kiss dakshóhgwak
(he) kisses (her) repeatedly shagohsohgwaeñnyóñk

knife á'sha•'
(my) knife agá'sha•'
(i grabbed the) knife daga'shaeñhawíhda'
(big) knife wa'shaewá•neñh

(he) knows honóñhdoñ'

(I) know (how) gé•yeñk
(she) knows (how) é•yeñk
(do you) know (how) sé•yeñk khéñ




L
lacrosse dehoñtjihgwa'és / dehonatjihgwa'éh
(they played) lacrosse wa'thoñsjihgwa'é•gwa'
(they are playing) lacrosse dehonatjihgwa'éh
(they played) lacrosse wa'thoñtjihgwa'é•gwa'
(do you play) lacrosse dehsatjihgwa'es kheñh
(yes I play) lacrosse heñ•eñ degatjihgwa'es
(he is a) lacrosse (player) dehatjihgwa'es


lacrosse goal degahnhohó•ga'

lacrosse stick dehoñtjihgwa'ésgakhwa' ga'nhya / dewa'a•eñ' gajihgwa'éh

ladybug/beetle o'nowahní•h

lamp/torch/match gajisdóha•'

LaFayette tgahwisdaniyóñ•da' / tgahwisdo•da'

lake ganyá•da•e'
(on the) lake ganyadá•'geh
(across the) lake sganyadá•dih
(the) lake (is deep) onyada•hnó•des
(long) lake sganyadáis

land ne' oñhwéñ•jya'
brush osgoha•góñ•wah
cave ohsadagóñ•wah
ditch ohsadayeñ•dá•dye'
field gaheñ•dá'geh
forest ga•há•yeñ'
hill onoñ•dó•da'
island ohwéhno'
lake ganyá•da•e'
moundain onoñdáhä'
pond gana•wá•yeñ'
rapids ohna•wá•det
river geñhyóñhwa'
quarry osdeñhä'geh
shore gana'áhga•'
stone onéñ•ya'
swamp gana•wá•yeñ'
valley gaheñ•wagóñ•wah
waterfall detga'tgoñhsó•da'
water spring dyohna•wáeda'
water well tsha' tgahne•gó•da'
whirlpool dedyohnawadáhse'

(he stayed) late wa'hoñníshe'
(they stayed) late wa'heñnoñníshe'


(I am) laughing agyoñ•dyáha'

(he causes) laughter hadesgatgwá'tha'

(she is always) laughing goñdahgwih goyóñ•dyaha'

lawyer dehaihwasgéhnhas

(I) lay down wa'gáät
(she) lay down wa'óñ•wät

leaf onä•hda'
(falling) leaves dyonä•hdéñ'ih

leather / skin / animal ganéhwa'

(you are a good) learner sa•yéñ'tsgoñh

(I will) leave (you) eñgoñya'dóñ•di'

(she) left (him) wa'hoñwaya'dóñ•di'

left (side) sga•yeñno'gá•dih' hagwáh

lemon ohyajiwá•geñh

lettuce onä•hda'

(he has) lice hogá•yas

(you) lie down sáät
(I will) lie down eñgáät

lightning deweñnihwáhoñk

(I) like (it) gnóñhwe's
(I) liked (it) agnoñhwé'ih
(I don't) like (it) hya de' gnóñhwe's
(he) likes (her) shagonoñhwé's
(he) liked (her) shagonóñhwé'ih
(she didn't) like (it) hya de' agonoñhwé'ih
(she won't) like (it) hya tha•yenoñhwé'nha'
(someone) likes (him) hoñwanóñhwe's
(I) like (myself) gada•dnóñhwe's
(she) liked (it) wa'enoñhwé'nha'
(I could) like (her) a•khenoñhwé'nha'
(he used to) like (her) shagonoñhwé'sgwa'
(he) likes (money) hahwisdanóñhwe's

(you all) line up swaneñhseñ•nyah

lion dagosgó•nah / gahahseñ•dyétha'


(I) listen gadahóñhsadats
(he is) listening hodahhoñhsiyósdih
(we all will) listen (well) eñya•gwadahoñhsiyósda'
(I) listened wa'gadahoñhsiyósda'
listen (well you two) jyadahoñhsiyósdah
(I am a) listener gadahóñhsadats
(I) listened wa'gadahóñhsadat
(I have) listened agadahóñhsadá•dih
(he will) listen (to me) eñhadagahóñhsadat
listen! sadahóñhsadat
(I am) listening agadahoñhsá•de'

(he has a) liver hothwéñhsadah

(they are) living together dehníh
(us two are) living together deya•gníh
(do you two) live together desníh kheñh
(we all) live together deñdwík
(us two were) living together deya•gníhna'
(he's not) living (with anyone) soñga•' sa'dehníh

lizard dega'nóñ•doñt

lobster oji'e•wá•neñh

locust ogweñ•yó'da'

log gaéñ•da'
(pile of) logs dyoyeñdahso•jyó•da'
(he splits) logs dehayayeñdowéñhseñ•k

log cabin degaeñdá•doñ

(I feel) lonely hgwá•da•'s
(he has gotten) lonely hogwa•dá•'ih
(I have become) lonely ahgwa•dá•'ih
(he will feel) lonely eñha•gwadá•'nha'
(she felt) lonely wa'e•gwadá•'nha'

longball deye•gwáthwas

Longhouse Ganoñhsésgeh

(it lasted a) long time aoñníshe'ih
(a) long time (ago) oñnís'ih
(I waited a ) long time wa'oñníshe' wa'ga•dnoñhdóñ'da'

(I am) looking gatgáthwas
(you) look satgáthwas
(they have) looked (at it) honatgáthwih
(he has) looked (at it) hotggáthwih
(he) looked (at it) wa'hatgáthwa'
(she) looked (at him) wa'hoñwatgáthwa'
(you should) look (at it) a•hsatgáthwa'
(let me) look (at it) do•gatgáthwah
(lets all) look agwatgatgáthwah

loon hahoñ•weh / hahoñ•neñh

(don't you) lose it ahgwih sadahdoñh
(don't you two) lose it ahgwih jyadahdoñh
(don't you three) lose it ahgwih swadahdoñh
(don't us three) lose it ahgwih dwadahdoñh

(it is) loud ohgáe'ih
(It will be) loud eñyohgae'ík
(he is) loud hohgáe'ih
(it is) loud jyóhga•ks


(I) love (you) goñnowéñkhwa'
(I) love (you too) goñnowéñkhwa' ihs o' ni'áh
(I will) love (you forever) ha'deñwatgoñdeñ' eñgoñnoweñkhwák
(you) love (me) sgnowéñkhwa'
(I) love (her/them) khenowéñkhwa'
(she/they) love (me) oñgnowéñkhwa'
(I) love (him) henowéñkhwa'
(he) loves (me) hagnowéñkhwa'
(they) love (each other) deyoñdadnowéñkhwa'

(we all are) lucky oñgwa•dä•'shwiyóh



M
(it has) maggots (in it) oji'nóñ•wadah

(you are the) main one shya'dagwení•yo'
(it is the) main (fireplace) gajisdagwe•ní•yo'

man héñ•gweh

maple tree ohwáhda'
i planted a) maple tree ohwáhda' ne' wa'khoñdayéñthwa'

maple sap ohwahdá•gi•'
maple sap (flowed) dagashesdó•deñ'
(they collect) maple sap hadihnegaéts oweñ•dá•gi•'

maple syrup oshésda'
(she bought) maple syrup wa'eshesdahní•noñ'

marriage ganahgwáhsä•'
(will you) marry (me) eñsagayeñha' kheñh eñyoñgninya'khe'
(yes, I will) marry (you) heñ•eñ eñyoñgninya'khe'
(they are) marrying hodí•nyaks
(I am) married age•nyá•gih
(they are) married hodi•nyá•gih
(they) married hodinyák
(she isn't) married hya de'agonyá•gih
(he isn't) married hya de'ho•nyá•gih
(they are going to get) married hodiyákshe•'
(they got) married wa'hodinyákhe'
(you will get) married eñsanyákhe'
(are we going to get) married eñyoñ•gninyákhe' khéñh

mask gagoñhsa'
(I have a) mask (on) agatgoñhsa•'
(you have a) mask (on) satgoñhsa•'
(she has a) mask (on) gotgoñhsa•'
(he has a) mask (on) hotgoñhsa•'


mask (covers mouth and nose) oñtgoñhsa•tha'
(you put a) mask (on) satgoñhsa•eñh
(you should put a) mask (on) a•hsatgoñhsa•eñ'
(you all should put a) mask (on) aeswatgoñhsa•eñ'
(I always wear a) mask gatgoñhsa•s dyotgoñt

matter, thing, reason, thought, word owíhwa'
(it is a small) matter niga•ihwa•'ah
(I studied the) matter wa'ga•di•hwa•yéñsda'
(the) matter (has been placed before you sadi•hwagéheñ•'
(one) matter sgáihwadah
(every) matter ha'deyowihwagéh
(I misunderstood the) matter wa'tgi•hwane'á•gwa'

maybe eñyéñha'


(the) meal (is ready) okhwá•ih

(don't be) mean ahgwíh eñsgéñhä's

(I) mean (it) gí•da'
(you) mean (it) sí•da'
(he) means (it) héñ•da'
(what does that) mean wadéñ' na' gé•da
(that's what he) means na' gó•' héñ•da'


meat o'wáhä•'
(dried) meat o'wahä•théñh
(my) meat ak'wáhä•'
(he will pass the) meat eñha'wáhä•dat
(she preserved her) meat got'wahähseñnoñníh
(I put) meat (in the oven) wa'gat'wahéñ•deñ'
(I ate) meat wa'k'wáhä•k


medicine onoñhgwá'tshä'
(my) medicine ageñnoñhgwá'tshä'
(his) medicine honoñhgwá'tshä'
medicines onoñhgwá'tshä' shóñ'ah
(I will make) medicine (for you) eñgoñnoñhgwa'tshéñ•nyeñ'

(they hold) meetings hoñtgeñníhs'as
(they are going to hold a) meeting hoñtgeñnihs'áhe'
(we all will hold a) meeting eñdwatgeñníhs'a'
(they held a) meeting wa'hoñtgeñníhs'a'

metoor (fire dragon) hadawinétha'

milk onoñhä•hsa'

milkweed owä•hgwéñ'sda'

mind changer dega'nigoñhäde•nyoñs

(it will be) mine eñwagawéñks

(I) miss (you) goñhha•deñha'
(I) missed (him) wa'hehnhá•deñ'
(she will) miss (it) eñyehnhá•deñ'
(he) missed (you) wa'hyahnhá•deñ'

(put your) mittens on dehseñ'nyo•hgah

moccasin ahdahgwa'óñ•weh

Mohawk Ganyeñ'gegá'

Monday aweñdeñ•dá'ih

(my) Mom agnóha'

money ohwísda'
(he has lots of) money hohwisdagá'de'
(lots of) money ohwisdagá'de'

monkey gají'kdaks

(Grandmother) moon Ethihsoda ahsoñhekhá gáähgwa•' (listen)

moons
Dís'áh long nights short days (listen)
Disgó•nah longer nights shorter days (listen)
Hehsä•t'áh trecherous little winter (listen)
Ganä•hdóha•' buds in the tree (listen)
Ganä•hdo'gó•nah moon of many leaves (listen)
Ohyaiháh when berries come (*used every 30 moons) (listen)
Ohyaihgó•nah great ripening of berries (listen)
Säsgéhah long days short nights (listen)
Sä•sgehgó•nah big long days (listen)
Kheñ'déñhah deer has short tail (listen)
Kheñ'deñ'gó•nah deer has a long tail (listen)
Jyothowéhah return of little cold (listen)
Jyothowe'gó•nah return of the big cold (listen)

moose sga'nyoñgaheñwagó•nah

mosquito oga•yahdáhneh

mother gnóha'
(my) mother agnóha'
(his) mother honóha'
(my) mother (in law) oñkshá'wah

Mother Earth Ethino•ha tsha' Oñweñja•de'

(they are in) mourning hadi'nigoñhgwéñhda•'
(she is in) mourning e'nigoñhgwéñhda•'

(act) mournfully sadahsawéñät

mouse ji'deñ'áh

(you) move back! ohna'geñ' hwa'satgwi'dah

much íhswa'

mud / clay / mortar o'dá•ä'
(in the) mud o'daägóñ•wah
(it is) muddy o'dáegoñ'
(it is really) muddy o'daegoñ'áh

(he is) muscular hojihgwahní•h
(I am) muscular akjihgwahní•h
(he's got big) muscles dehohwéhna•'

mush ojísgwa'
(the) mush (is bubbling up) watjisgwadóñ•gwas
mush (will bubble up) eñwatjisgwadóñ•gwa'
(I will eat) mush eñkjísgwak
(she made) mush wa'e•jisgóñ•nya'

mushroom ogeñ•yó'da'

muskrat onó'gye•'




N
(my) name gya•jih
(your) name jya•jih
(my) name oñgyastha'
(your) name esayastha'

native oñgwehoñwe'

nephew heyeñhwá•deñ'

(bird) nest ga•yo'áh odeñ'náhseñ•'
(will make a) nest eñwadeñ' nahsoñ•nya'
(made a) nest wa'wadeñ' nahsoñ•nya'

(the) news (is plentiful) gaihwaná•ge·'

(now you) next oneñ ihs oñhgeñ'

(alway a) nice day dyo'goñt weñ•di'yoh

(he is a) nice (boy) haksa'diyóh
(she is a) nice (girl) eksa'diyóh

niece kheyeñhwá•deñ'

night/tonight eñyó'ga•k
(all) night ohsoñdagwé•gih
(last) night gwahsóñ•de'
(a nice) night wahsóñ•di'yoh

nine wá'deñ•h

nineteen wá'déñ• gáhe•'

ninety wá'déñ• niwásheñh

no hi•yah

(they are) noisy gai'sdowá•neñh

noon tsha'deweñdáheñh

nurse deyeyeeñ'dásnye'

numbers
one sgá•dah
two dégnih
three áseñh
four gayé•ih
five hwíks
six áhya'k
seven jyá•dak
eight dé•geñ•'
nine wá'deñ•h
ten washéñh
eleven sgá•da gáhe•'
twenty dewashéñh
thirty ahséñ niwásheñh
one hundred sgadá deweñ'nyá'éh
one thousand sgadá sgahóñhsä•dah

nut ohsó'gwa'




O

(white) oak gaeñdähé'sda'

oatmeal gasdakdó•geñ'

ok há•noñ'

old (lady) goksdeá'áh

old (man) hoksdeñ'áh

one sgá•dah

onion o'nóñhsa'

onion (wild) o'noñhsó•ya'

Oneida Hadiyeñyótga•'

One Mind Sga•dah hwe'dwayéñ' ne' oñgwa'nigoñhä•'


(the) only (one) ne' aoñhwa'áh
(it is not the) only (one) hya de'jyáogoñ'

Onondaga Onoñda'gegá'
Onondaga language Onoñda'gegá' nigaweñno'déñh
Onondaga (is our nation) Onoñda'gegá' nwa'oñ•gyoñhweñjyó'deñ'

Onondaga Places
Arena Tsha' Hoñ'noñyeñ'dakwha'
Administration building Dyodihwasye'nha'
Buffalo Field Tsha' noñh goñdina•geh dege·yá'gih
Clinic Hadejyeñ'tsgeh
Crick Geñoñwa'
Cookhouse Tsha'noñ thadikhoñnya'dakhwa'
Dam Tgahnegahnho•doñ'
Firehouse/community center Tsha' Thoñswatha'
Longhouse Ganoñhsésgeh
Healing Center Ga'nigoñhi•yóh
Hemlock Dyoneñ'dahä•'
Hill with field on top Gaheñ•dáhä'
Main Road Ohahagweñniyoh
Middle of the village ganadagoñ•wah
North End Dyonoñdo•hwih
Onondaga- The Capital Ganakdagweñni•yo'geh
ONS Tsha' Oñdehoñ•nyéñ•nik
Pavillion/Fieldhouse Tsha' Thoñ'nhes
Route 11 Ohahahse'geh
Route 80 Sgeñha•dih
South End Tganeñyoñdyóñh

orange oji'tgwaiyóh

orange (fruit) okhahóñ' óhya'

other places eñ•noñwéshoñ'

otter sgwá•yeñh

over / above hé'tgeñh

owl gwá•yeñh / gwayweñh

(I) own (it) í' agá•weñh
(Harry) owns (the book) Härí howéñ ne' gahyadóñsä•'




P

package geñsdótshä'

(I am in) pain ageñ•hyá•geñs
(she is in) pain goweñhyagéñh
(they are in) pain hadiyeñihyá•geñh
(he suffered) pain wa'haeñhyá•geñ'
(I suffered) pain wa'geñihyageñ'

paint/color ohsóhgwa'

(he is a) painter hahsós

pan gá•jyeñ'

pancake owä'wísda'

pandemic heganoñhsodaeñ•nyoñ'

pants gahná'tsha'

parrot sha'shá

parsnip owähe'sdá' niyokdehe'déñh

partridge/pheasant/grouse ganoñnyagae'ih

pass it sgahwah
pass it there dahshah

Pavillion/Fieldhouse Tsha' Thoñ'nhes

(I) pay hgá•ya'ks
(she will) pay eñye•gá• ya'k
(I will) pay (you) eñgoñ•gá• ya'k
(you) pay sgá• ya'k
pay (me) dasgá•ya'k
(he has) paid hoga•yá'gih
(it has been) paid gaga•yá'gih
(I have) paid (you) goñga•yá'gih

pea oné•gwa'

peace sgéñ•noñ'

peach ogoñ'nhwáe•wih

pear goñdihsohgwés

(he) pees hadyá•ges
(I am) peeing aga•dyá•ges
(I) peed wa'ga•dyá•ge'
(she) peed wa'oñ•dyá•ge'
(I will) pee eñ'ga•dyá•ge'

peninsula gahna'gáe•ga'

(black) pepper dyohsáet
put pepper on it deyohssaet eñhsä•k

peppermint ena'nósyha'

people (2) dehnóñ•gweh
(several) people heñnoñgwéshoñ'
(among the) people óñgwéhneh
(all of the) people oñgwe'dagwé•gih

perhaps eñyéñha'

person óñ•gweh
(young) person óñgwe'dahsé'
(I am a young) person goñgwe'dahsé'
(one) person jyoñgwé'dadah

(she is here to) pick (berries) ehyákhe'

(go) pick (berries!) sahyákhah

(he) picks it há•gwas
(how much he) picked tsha' niyóñ hó•gweñh
(I) picked it wa'gé•gwa'
(he will) pick it eñhá•gwa'

pictures gaya'da•sdahéñ•'

pidgeon jyohéäh

pie wahya•dah
(apple) pie swahyo•nah wahya•dah
(blueberry) pie ohya•jih wahya•dah
(cherry) pie jye•i' wahya•dah
(lemon merreign) pie ohyajiwa•geñh niyot wahya•dah
(pumpkin) pie ohnyoñhsowa•neñh niyot wahya•dah

pig gwísgwis

pilot deha•déñha'

pink oshesda'áh

(I) plant gyéñthwas
(I did not) plant (it) hiya de'wagyeñthwih
(I should) plant a•gyéñthwa'
(I will) plant eñgyéñthwa'
(he has) planted hoyéñthwih
(he) planted wa'hayeñthwa'
(she) planted wa'eyeñthwa'
(I have) planted (small gardens) agyéñthwíh nigaheñda's'áh
(I am) planting gyeñthwáhoñk
(he should be) planting a•hayeñthwáhsek
(let's all) plant (it!) dwayeñthwah
(let's you and I) plant (it!) dniyeñthwah
(will you) plant? eñjyeñthwa' kheñh
(she has) planted (corn) goneñhayéñthwih
(the corn got) planted odneñhayéñthwih
(you) plant (it!) jeñthwah
(you two) plant (it!) sniyeñthwah
(you all) plant (it!) swayeñthwah

plate/ dish gáksa'

(he) plays heñ'noñ•yéñha'
(he) plays (with her) shago'noñ•yéñha'
(she is) playing go'góñ•yeñ'
(they are) playing honeñ'nóñ•yeñ'
(I am) playing ageñ'nóñ•yeñ'
(I) played wa'geñ'noñ•yéñ'
(they will) play eñhoñ'noñ•yéñ'


(I) play ball degéñ'nhes
(he) plays ball dehéñ'nhes
(she) plays ball deyoñ'nhes
(they are) playing ball dehonéñ'nheh
(I will) play ball deñgeñ'nhé•gwa'
(he) played ball wa'theñ'nhé•gwa'
(they) played ball dehoñ'nhésgwa'

(they) play cards dehadihyadoñhsä•yéñha'
(they are) playing cards dehodihyadoñhsä•yéñ'
(they) played cards wa'thadihyadoñhsä•yéñ'
(they would) play cards da•hadihyadoñhsä•yéñ'

(they) play (hide and seek) dehoñdadahóñ'tha'

plum ohseñhä•yeñ

plumber hathoñwe'dadogéñstha'

poison ivy gohóñ•da•'s

policeman shagoyé•naoñs

poorhouse Tsha' thonidéñt

popcorn oñdneñhädahyá'tha'

popular tree oneñ'tgáe'ih

porcupine onhé'da'

pot / vessel / kettle / pail ganá'jya'

potato oneñ•nóhgwa'
(mashed) potato deganeñnohgwahihdih

pour (me some) daskhnegahas
(you) pour (her some) shehnegahas
(you) pour (him some) heshnegahas
(I will) pour (her some) eñkhehnegahas
(I will) pour (him some) eñhehnegahas
(you) pour it shnega•eñh

(it is) pouring rain dyosdáeñhdih

President/Town Destroyer Hanadagá•yas

(she is) pretty goya'da•yéñsdih

puffball otshóhgwa'

put some (on my plate) daskhä•hä•s
put some (on her plate) shehä•hä•s
put some (on his plate) heshä•hä•s
(I will) put some (on her plate) eñkhehä•hä•s
(I will) put some (on his plate) eñhehä•hä•s
(can you) out some (on my plate) eñwadoñ' kheñh eñskhä•hä•s

pumpkin / watermelon ohnyoñhsówaneñ's

(he is) punching hagóñkhwa'
(someone) punched him wa'hoñwagóñhgwa'
(he) punched (me) wa'hahgóñhgwa'
(I will) punch (you) eñ'goñgóñhgwa'
punch (it) hesgóñhgwah

purple jyeñgwáehsä•'

(he) put (wood in the stove) wa'hayeñdóñ•deñ'




Q
(he) quit wa'ha•dya'dá•gwa'

quilt degeñhnakháhoñ'

quiver ga'dátshä·'




R


rabbit gwa'yéñ'áh

radish niyokdehä's'áh

(he) races dehaé•yeñk
(she) races deyoñwé•yeñk
(they are) racing dehoñwé•yeñk
(I) race degaé•yeñk
(he) raced wa'thaeyéñ'

raccoon jyo'ä•gak / jyo'e ä•k

raven ga'ga'go•nah

railroad tracks dwadegeñ'tshähä•'

rain ósda•'
(in the steady) rain osda•goñwáshoñ'
(it) rained wa'osdaeñ•di'
(it looks like) rain osdáewih
(it is) raining osdáeñ•dyoñh
(it will) rain eñyosdáeñ•di'
(it is) raining (hard) dyosdáeñhdih
(misty) rain o'a•yóñ•dyoñh


rainbow o'nhyó•da'

raincoat osdaeñdyoñkhá' adya'dawi'tshä•'

rain water osdá•gi•'

raspberries ona'jyóhgwa'

rattle gasdawéñ'shä•'

(you are) recovering sada'gái•dats
(I am) recovering sgada'gái•dats
(he is) recovering shada'gái•dats
(she is) recovering jyoñda'gái•dats

(it is the) real thing gwás eñyodogeñ'íks

red otgwéñhda•'

red-wing blackbird dyonyeeñdaih

red whip otgwéñhda•' niyohoñdo'déñh

(you) read/study sade•yéñstha'
(I) read gade•yéñstha'
(he) reads hade•yéñstha'
(I have) read agade•yéñsdih
(they are) reading honade•yéñsdih
(I) read wa'gade•yéñsda'
(she will) read eñyoñde•yéñsda'

(I am) ready agadehsá'ih
(she is) ready godehsá'ih
(I got) ready wa'gadéhs'a'
(they are) ready honadehá'ih
(he is getting) ready hadeh'ás
(I am getting) ready (to go out) gadeh'ás eñgyagéñ'nha'
(I am getting) ready gatdogéñstha'
(I have gotten) ready agatdogéñsdih
(they have gotten) ready honatdoéñsdih
(they got) ready wa'hoñtogéñsda'

real person oñgwehoñwe'

(what is the) reason wadeñ' na' owíhwa'
(this is the) reason nayé' dyowíhwa'
(that's the) reason (I got angry) na' dyowíhwa' aga'khwéñ'ih

(bright) red otgweñhda•dá•gih

red whip otgwéñhda•' niyohoñdo'déñh

(I) remember agá•ha's / swaga•ha's

Reporter dehahwisdóha•ks

(I am) resting agadoñwísheñh

(you all) rest swadoñwisheñh

right now háhsa'

river geñhyóñhwa'

road ohá•de'
(on the) road ohahadá'geh
(fork in a) road deyohahó•geñh
(it is a crooked) road deyothahá'kdoñh
(good) road ohahiyóh

robin jisgá'ga'

rock osdéñhä'
(at the) rocks osdeñhä'geh
rocks (are rising upwards) degasdeñhényoñ'
rock (cavern) osdeñhägahéñda'
rock (ledge) degasdeñhedá•dye'
(large) rock oneñyowá•neñh

(you) run! desáähdat

(he is) running (around) hadákhe's
(I am) running kdákhe'
(he will be) running eñhadakhe'



S


(I) said (it) wa'gihéñ•'
(that's what he has) said na' hawéñh
(is that what you all) said nayé' khéñh ne' iswéñh
(she has) said (it) gawéñh
(what I have) said na' agéñhna'

salmon ojyoñ'dówane's

salt ojikhé'da'
salt it sijikhe'da•k

salt pork ojikhé'dá' o'wáhä•'

(it is the) same tsha'dé•yot
(it will be the) same tsha'deñyohdík

sand o'néhsa'
(my) sand ak'néhsa'
(he got) sand hwa'ha'nehsá•gwa'
(there is) sand (up there) ga'nehsá•hä•'
(I spilled the) sand wa'k'nehsáhi•k

sap / gum / honey oshésda'

Santa Claus heñdá•s

sassafras wa'eñ•ná•gä•s

(she will) say (it) eñyahéñ•'
(he will) say (it) eñheñhéñ•'
(what i should) say a•gihéñ•'


(she) says iyóñ•doñk
(I) say igá•doñk
(they) say hóñ•doñk
(what you all) say ne' swá•doñk

Saturday eñdákda'

(I am) scared agatshéñ'ih
(you are) scared satsheñ'ih
(she is) scared gotsheñ'ih
(he is) scared hotsheñ'ih
(they are) scared honatsheñ'ih
(you will get) scared eñsatsheñha'
(don't get) scared ahgwih satsheñhah


(it is) scary o'dahdeñ•t
(I am) scary agi'dahdeñ•t
(you are) scary señ'dahdeñ•t
(she is) scary go'dahdeñ•t
(he is) scary ho'dahdeñ•t
(they are) scary honi'dahdeñ•t
(it is extremely) scary o'dahdeñ•tgó•nah

scarf/necklace/tie onihdyástha'

(he) scores hayóñ'tha'
(he has) scored hoyóñ'dih
(what is the) score nwadeñ' nigayoñ'di's
(what's our) score nwadeñ' niyoñgwayoñ'dih
(what is their) score nwadeñ' nihodiyoñ'dih
(he will) score eñhayoñ'da'
(he) scored wa'hayoñ'da'

sea gull ganyada•'gekhá'

Seasons
Autumn / Fall geñneñ•ná'geh
Spring time geñgwi•déñhjik
Summer gageñhnhá'geh
Winter gohsä•'geh

secretary / writer hahyá•doñk

(you will) see them (again) eñtahé•geñ'
(he) sees (them) shagogéñha'
(I would) see (them) a•khé•geñ'
(I) see (the sky) geñhyagéñha'
(you will) see (a field) eñhsheñ•dá•geñ'
(I will) see (you again) eñsgóñ•geñ'
(you will) see (them again) eñtshé•geñ'

seed odyétshä'

(I) sell gadeñhní•noñk
(he) sells hadeñhní•noñk
(what are you) selling wadéñ' sadeñhní•noñk

Seneca Onoñdowa'gó•na / Onoñdowa'gá' / Go•na'ga'

seven jyá•dak

seventeen jyá•dak gáhe•'

seventy jya•dák niwásheñh

sheep deyodina'gáeñdoñ'

shirt/dress/coat ada'dawí'tshä'

(my) shoulder khneñhsí'geh

(I) shouted/yelled wa'dwakhéñehda'
(he) shouted wa'thohéñehda'
(they) shouted dehodihéñetha'
(I am) shouting dewakhéñetha'

shovel deyoñda'ge•hdakhwa'
(you) shovel dehsada'ge•hda•k
(you have to) shovel goñda' dehsada'ge•hda•k
(did you) shovel (yet?) ahsoñ• kheñh wa'tshada'ge•hda•k
(I have to) shovel goñda' eñtgada'ge•hda•k
(I already) shoveled oneñ ne' na' dewagada'ge•hda•hwih
(can you help me) shovel a•wadoñ' kheñh eñsgya'dage•nha' da•gada'ge•hda•k
(thank you for) shoveling nyaweñha tsha' wa'tshada'ge•hda•k
(I am) sick agnoñhwákdeñnik
(he is) sick honoñhwakdeñníh
(he got) sick wa'honoñhwákdeñ'
(I will get) sick eñwa•gnoñhwákdeñ'
(I may be) sick a•wa•gnoñhwákdeñ'

(he is a) singer hadeñ•nótha'

(I am) singing aga•deñ•nó•da'

(he should) sit a•hadyéñ'
(he will not) sit hiya tha•hadyéñh

six áhya'k

sixteen áhya'k gáhe•'

sixty áhya'k niwásheñh

(he is) skating along dehodo'jinehdiha•dya'
(I am going) skating wa'tgado'jinehdahne'
(you all go) skating deswado'jinehdahnah

(he is) skinny hodí•weñh
(she is) skinny godí•weñh

skunk eñní'das

skyworld / heaven gaeñhyá'geh

sled ohni'tsho'dakhwa'
(do you have a) sled? señhni'tsho'dakhwahsä•yeñ' kheñh
(go get your) sled segwahah ne' señhni'tsho'dakhwa'
(I'm on my way to go) sledding wa'geñhni'tshohne'
(let's you and I go) sledding dyeñhni'tshohnah
(do you want to go) sledding (with me?) se•he' kheñh eñdyeñhni'tshohna'
(do you want to go) sledding (with us?) se•he' kheñh eñdweñhni'tshohna'
(I went) sledding (yesterday) wa'geñhni'tshohna' ahse•deh

(he is) sledding heñhni'tshok

(I am) sleepy agí•da'ks
(he loves to) sleep haihseñ•hdanóñhwe's
(he is) asleep hodá'wih
(are you) asleep señdá'wih khéñh
(she is) sleeping godá'wih
(I will) sleep eñwa•gí•da'k
(I) slept (a lot) iswá' oñgí•da'k
(you) sleep séñ•da'k
(I didn't) sleep hya de' wa•gí•da'ks
(he is) sleepy hó•da'ks
(she is) sleeping godá'wih
(I will) sleep eñwa•gi•da'k
(go to) sleep señdá'hah

slippery deyowí'tsgwat
(you will) slip eñsai•'tsgwa'
(I) slipped wa'wagi•'tsgwa'
(be careful before you) slip s'nigoñhä•k gae' tsha' nigeñhsai•'tsgwa'

small niwa'áh
small (amount) niyohóñh
(she is) small niyaga'áh
(he is) small nihä'áh
(they are) small (men) niheñna's'áh heñnóñ•gweh
(they are) small (women) nigoñna's'áh
(they are) small (objects) niwa's'áh

(I) smell (it) agéshwas
(he) smells (it) hóshwas
(he) smells (it) wa'hóshwa'
(she will) smell (it) eñyagóshwa'
(I) smelled (it) wa'wagéshwa'
(I) smelled (food) agekhwáshwas
(it) smells (bad) gá•gä•s
(he) smells (bad) hayá'tgä•s
(they really) smell (bad) honi'dá•gä•s

(I am) smiling agyoñ•dih
(she was born with a) smile godyoñdihsä•dah

(it got) snagged / hooked odá•hwih

snail ji'señ•weñ'

snake osháisda'
(milk) snake nihshéñhsä•'

snipe odi'nehsí·yo'

snow ó'gä•'
(crusty) snow owihsgä•'geh
(wet) snow o'gä•na•weñh
(it is) snowing o'géñ•dyoñh
(it looks like) snow o'gé•wih
(it started to) snow wa'o'géñ•di'
(it will) snow eñyo'géñ•di'
(there is) snow (on the ground) o'gä•yeñ'
(we are all) snowed (in) oñgwa'ge•há•gih
(it) snow(ed) wa'o'géñ•di'
(it stopped) snowing wa'wa'geñda'nha'
(it looks like) snow o'ge•wíh
(it is) snowing (again) oneñhe' o'geñ•dyoñh
(they say it will) snow (later) geñ'jik eñyo'geñ•di' ya•geñ'
(they say it will) snow (tomorrow) eñyo'geñ•di' eñyo•heñ'nha' ya•geñ'
(it) snow(ed) yesterday wa'o'geñ•di' ahse•deh

snowball deyoda'gä•gwe'noñnhíh

snow flake jyo'gä•dah

snow flurries o'geñ•dye•nóñ•dye's

snowman o'gä•' nihaya'dó'déñh

(Do you want to build a) snowman (with me?)
se•he' kheñh eñdnihseñ•nya' ne' o'gä•' nihaya'dó'déñh

snowplow deyoñda'ge•hdakhwa' ga'se•hda'

snowshoe deyoda'áäde' ahdáhgwa'

snowsnake gahwéñhda'

(they are playing) snowsnake dehadihweñdayeñha'
(they play) snowsnake wa'thadihweñhdayéñ'
(long) snowsnake gahweñhdes
(mudcat) snowsnake nigahweñhdaagwaháh
snowsnake grease othnatgoñ'
(it is) all gone heyots'ahdih
he is a heckler dehadi'nigoñha•ha'
it is a flyer gaya•no•we'
he is the marker haya•na•tha'
he missed it sahat'wahda'
it is on its way wa'we'
(they are) running fast hadidakhe' osno•we'
throw (it hard) otshahnit hesa•dih
he is the thrower heho•dye's
he is a good thrower haneñtshi•yáh
(we all make) the track dwayana•eñnyaha'
they are watching hadikdoñk
he won wa'hatgwe•nya'

snowy road o'gä•' niyohaha'do'déñh

snowstorm o'ge•wa•neñh
(a big) snowstorm (is coming) dawa'ge•waneñha•dye'

squash ohnyóñhsa'

so / so then da• / dá• oneñh

soap goháe'tha'

socks adä•hdí'tshä'
(he is wearing) socks hosdí ne' adä•hdí'tshä'

soda gahoñ'deñ•k

soft / delicate ohe'déñh

(she plays) softball deyoñ'nhes

(my) son hehá•wah
(my) son (in law) henéhnhoñs

song (in progress) gaeñnó•da'

soup ohne•gá•gi·'

spider dek'áhseñh / dega'ahseñh

(on my) spine gehswá'geh

splint ohweñ'ga•'
(soak the) splint sheñ'ga•naweñhdah

sponge degahnegákhwa'

spoon adó•gwat

Spring time geñgwi•déñhjik

spring (well) dyohna•wá•eda'

squash ohnyóñhsa'
(hubbard) squash degahnyoñhsahsiha•'
(marrow) squash ohnyoñhsa'oñ•weh ohnyoñses


(gray) squirrel jyokdá•gi·'

(red) squirrel háisheñh

star ojisdanóhgwa•' / ojisdeñnohgwa•'

stick ga'nhya'
(your) stick sa'nhya'
(my) stick age'nhya'
(his) stick ho'nhya'
(where's your) stick gaeñnoñ nigayeñ' ne' sa'nhya'
(grab your) stick jye•náh ne' sa'nhya'
(go get your) stick segwahah ne' sa'nhya'

(it is) steep gagaeñhé' onedodá•hwih

(he is) still tha'dehodyéeñh / tha'dehó•dyeñ•h

(he is) stingy honí'oñk
(she is) stingy goní'oñk
(they are) tingy hodiní'oñk

stomach otgwéñ'da'
(in my) stomach getgweñ'dagóñ•wah
(on my) stomach getgweñ'dá'geh
(on her) stomach etgweñ'dá'geh
(your) stomach setgweñ'dá'geh
(her) stomach (hurts) gotgweñ'danóñhwaks
(he has a big) stomach hotgweñ'dowá•neñh
(her) stomach (got big) / pregnant wa'agotweñ'dowánha'
(he has a) belly hotgweñ'dá•yeñ'


(she) stirs (it) deyoñ•wéñ•yek
(she is) stirring (it) deyagoweñ•yéh
(It was) stirred oneñ né' na' dewaweñ•yéh
(she will) stir (it off and on) deñyoñweñ•yéhek
(she will) stir (it for him) deñhoñwawéñ•ye's
(she will go there to) stir (it) deñyoñweñ•yéhä'

stone onéñ•ya'

stop señni•héñh

storm odetgihdih

(new) story owihwahsé'

stomach otgwéñ'da'
(in my) stomach getgweñ'dagóñ•wah
(her) stomach (hurts) gotgweñ'danóñhwaks

stove/matches/lighter oñdega'dákhwa'

strawberry oheñdadekháhgwih


(it is) strong gahwíshe'
(I am) strong khwíshe'
(she is) strong eya'dahwíshe'
(she will be) strong eñyagohwíshek
(she used to be) strong ehwishéhgwa'
strong (words) gaweñnahwíshe'
strong (wind) ga•ä•hwíshe'

(it is) stuck owethá•hwih

(you) study/read sade•yeñhsta'
(you) studied /read wa'sade•yeñhsta'
(he did) study wa'hade•yeñhsda'
(he might) study a•hade•yeñhsda'
(she might) study a•yoñde•yeñhsda'

(your task will) succeed eñhse•yeñni•yó'khe'

sugar oweñnawéñ'da'
(too much) sugar oweñnaweñ'dá' oñgóhdih

Summer gageñhnhá'geh

sun eñdekhá' gáähgwa•'
(the) sun (shines) wadeñháetha'
(the) sun (shone) wa'wadeñháe•deñ'
(the) sun (will shine) eñwadeñháe•deñ'
(the) sun (shone again) sawadeñháe•deñ'
(the) sun (is shining through the clouds) deyodeñhaeñdóñ•nyoñ'
(the) sun (rises) gaähgwítgeñ's

(its a) sunbeam odeñ•hyó•da'
(a) sunbeam (came through) wa'wa•deñ•hyó•deñ'

sunny odeñhae•da'
(it will get) sunny eñwadeñhae•deñ'

Sunday aweñdado•géñhdih

sunflower aweñha'gó•nah / oweñweñhsä•'

sunrise tgaähgwítgeñ's

sunset hegaähgwéñ's

sumac otgó'da'

swallow dega•ne•' e•geñh

swamp gana•wá•yeñ'

swan onyaä'dagwa•doñ'

(I) sweep / clean góhseñ•s
(she) swept / cleaned wa'agóhsä•'
(I will) sweep / clean eñgóhä•'


(his) sweetheart ho'daeñ•nawéñ'da'
(her) sweetheart go'daeñ•nawéñ'da'
(my) sweetheart agi'daeñ•nawéñ'da'
(your) sweetheart señ'daeñ•nawéñ'da'

(you) swim sada•wéñh
(I will) swim eñga•dá•wéñh
(they are) swimming hoñda•wéñha'
(she is) swimming oñda•wéñha'
(he) swam wa'ha•dá•weñ'

(her) swimsuit oñdaweñ'dakhwa'
(you put on a) swimsuit sesdah ne' oñdaweñ'dakhwa'
(you two put on a) swimsuit snisdah ne' oñdaweñ'dakhwa'
(you all put on a) swimsuit swasdah ne' oñdaweñ'dakhwa'
(let's us all all put on a) swimsuit dwasdah ne' oñdaweñ'dakhwa'




T



table oñdekhwahä•khwa'

Tadodaho Thadoda•ho'

tail odéñ'ä•'

(i) take charge wa'ga•di•hwasdéisda'

(it should not) take long hya tha•gaihwíshe'

take it off sga'tshah
(he has) taken (it off) hohä•gweñh
(he) takes (it off) hahä•gwas
take off (your coat) sadya'dawíhshyah

(I am not) taking charge hya de' tgeñnóñhdoñs

(he is) taking it away hagékhwas
(he has) yaken it away (from her) shagokhweñh
(he will) take it away (from me) eñhagékhwa'
(he) took it away (from her) wa'hákhwa'
(I) took it away (from him) wa'hékhwa'
(you) take it away (from her) shékhwah

(they are) talking oditha'
(she is going to) talk oñda•dyáhne'
(he goes to) talk hada•dyáhne's
(he has gone to) talk hoda•dyáhnoñh
(what are you) talking about wadéñ' sathá•hgwih
(what are we) talking about na' thogéñ oñgwathá•hgwih
(what we all) talked about oñgwatha•hgwíhna'
(they are) talking together dehodítha•'
(he) talks hada•dyáha'
(does she) talk oñda•dyáha' kheñh
(he was) talking hodá•dih
(he) talked wa'ha•dá•dya'
(I will) talk eñga•dá•dya'
(don't) talk ahgwí sadá•dyah
(she can't) talk yet ahsóñ de'oñdadyáha'
(they are) talking (things over) dehoditháeñnyoñ'
(we all will) talk (things over) deñya•gwathaeñ•nyóñ'
(they) talked it over wa'tgoñdithaeñ•nyóñ'
(is the boy) talking yet ne' haksa'áh néñ khéñ hawéñnadah
(it got) talked about odethó•wih
(what are you) talking about wadéñ' sathá•hgwih
(what we are) talking about oñgwathá•hgwih
(what we all had) talked about oñgwatha•hgwíhna'


(I am) tall khnéñ•yes
(he is) tall hahnéñ•yes
(she is) tall ehnéñ•yes
(it is) tall gahnéñ•yes
(I will get) tall eñkhneñyéshe'
(he got) tall wa'hahneñyéshe'
(he isn't very) tall neñ gwá' nihahnéñ•yes
(he is growing) tall hahneñyejihhá•dye'
(she is growing) tall ehneñyejihá•dye'

task ga•yéñ•na'
(they finished their) task wa'hoñde•yeñnó'kdeñ'
(his) tasks (are spread out) ha•yeñnadéñhda•'
(your) task (will succeed) eñhse•yeñni•yó'khe'

(it) tastes (good) oga'wih
(it) tastes (delicious) oga'wiyóh
(it looks) tasty oga'wihna'
(it smells) tasty weñhsä•ga'wih
(it was) tasty oga;wihna'
(do you like the) taste saga'hwa' kheñh
(yes I like the) taste heñheñ ahga'hwa'
(no I do not like the) taste hiyah ya de'wahga'hwa'
(it doesn't) taste good hya de'ogá'wih

(he) tattled wa'howihwítgeñ's
(she) tattled (on him) wa'hoñwaihwítgeñ's
(she will) tattle eñyoñ•gi•hwítgeñ's

tea odí'tshä•'

(he is a) teacher hadeñihoñ•nyeñ•nik
(she is a) teacher oñdeñihoñ•nyeñ•nik

Teacher statements
(you be) careful s'nigoñhä•k (listen)
(you all) count swashet
don't áhgwih (listen)
(you) erase it säge•wah (listen)
good-bye onéñ gó•' (listen)
greeting/Thankful you are well Nya•wéñha Sgé•noñ' (listen)
greeting reply gwas hya' do•geñs
great/super oyá•ne•' (listen)
(time for you all to go) home hwa'gahék oñ•seswahdeñ•dya'
(you all) line up swaneñhseñ•nyah
(you) listen sadahóñhsadat (listen)
more o•wis (listen)
no hi•yah (listen)
now / "see you" onéñh (listen)
ok hoñ•yóh (listen)
peace sgé•noñ' (listen)
(you) read/study sade•yéñstha'
(you all) rest swadoñwisheñh
tastes good ogá•wih (listen)
thank you nya•wéñha (listen)
(you) write shya•doñh
(you all) write swahya•doñh
write your name sada'señna•eñh
yes heñheñh (listen)
you're welcome yoñh (listen)

(We thank all you) teachers degwanoñheñ•k swadeñihoñnyeñnik

(I have) tears (coming down) ahgahsé•da'
(we all wiped your) tears wa'gwagahsä•gé•wa'

telephone oñdweñnoñdá•tha'

ten washéñh

Thanksgiving Address Ganoñhéñ•nyoñ'
People Dendwadanoñheñ
Mother Earth Ethino•ha tsha' Oñhweñja•de'
Medicines Hwa'dyonoñhgwa tshä•geh
Trees Hwa dyohoñhdageh
Berries Hwa'dyohha•geh
Animals Goñdi•yoh
Birds Hwa't goñdi•yo'dageh
Water Ohne•gano's
Foods Dyoñhehgwih
Winds Tsha' deyowä•weñye'
Thunders Ethihsoda Hadiweñnodoñdye's
Sun Shedwahji'ah eñdekha gaähgwa'
Moon & stars Ethisoda ahsoñhekha gaähgwa'/ Ojisdeñnohgwaeñnyoñ'
Protectors Gaye• niyoñgwe'dageh
Handsome Lake Sganyadai•yo'
Creator Gaeñha'ge' hana•ge' Shoñgwaya'dihsa'ih

Thankful you are well (greeting) Nya•wéñha Sgé•noñ'

thanks (for thinking of me) nya•wéñha tsha' wa'sgaha•'nha'

thank you nya•wéñha

(so) there (it is) tho ní•dyot né'

thirteen ahséñ gáhe•'

(i am) thin aga•dí•weñh
(he got) thin wa'ha•dí•wa'
(she got) thin wa'oñ•dí•wa'

(that is what I) think na' geñnoñhdóñ•nyoñk
(he) thinks (about it) heñnoñhdóñ•nyoñk

thirty ahséñ niwásheñh

(I am) thirsty goñ•yátheñhs
(he will get) thirsty eñhaoñ•yathéñha'
(she gets) thirsty agoñ•yátheñhs
(she got) thirsty wa'gaoñ•yathéñha'

(my) thoughts ageñnoñhdoñ•nyóñhsä•'
(in my) thoughts ageñnoñhdoñnyoñhsä•góñ•wah
(I have good) thoughts sgeñnóñ' geñnoñhdóñ•nyoñk
(he) thought (about it) wa'heñnoñhdoñ•nyóñ'

(he acted) thoughtlessly wa'ho'nigoñhästhwáha'

(one) thousand sgadá sgahoñhsä•dah

three áseñh

Three Sisters ahseñh na'degoñdeñhnoñdä•'

(I) threw (it) hoñgá•di'
(he) threw (it away) wa'hó•di'
(she) threw (out the water) wa'agohne•góñ•dih

throw it desá•dih / hesá•dih
(he will) throw (it back) eñshó•di'
(she will) throw (it) heñya•gó•di'
(I will) throw (a ball) heñwageñ'nhe'tshéñ•di'
throw (it to me) dasa•dih

(I am) throwing (things out) agá•dye's

(he has) thrown (it) heho•dyóñh
(i have) thrown it out agá•dyoñh

Thursday gayé•ih wadóñ'tha'

tick degaji'kdagweñhdéñh

(I am) tired agatséñhdih
(he is getting) tired hatshéñtha'

toad sgwa•gwáeñ•doñk

toast ohä•hgwathéñh

tobacco oyéñ'gwa'

tobacco (real) oyéñ'gwa' óñ•weh

today neñgéñ óñhgeñh

toilet oni'dayeñdákhwa'

tomato otgwéñda•' niyohyo'déñh

tomorrow eñyo•héñ'nha'

(I have a) toothache agno'jyanóñhwaks

(the) total ó•gweñh

town/village gana•dá•yeñ'

(I am coming to) trade degadada•wíhe'
(those two) trade dehyadadá•he'
(they have) traded dehonadádawih
(she will) trade deñyoñ•dá•doñ'
(I) traded wa'tga•dá•doñ'
(he is a) trader dehanoñwayeñtha'
(she is a) trader deyenoñwayeñtha'

train ga'se•hdayanó•wih

tree (standing) gä•hé•da'
ash (black) gaeñdagwá•jih
ash (white) ganeñ•hó•yah
basswood tree ohóhsä•'
beech tree otsgéñ'ä'
birch ona•góñhsa'
cherry jé•i'
cherry (black) gaeñdahoñ'jíh é•i'
oak (black) gaeñdajíh
cedar ohsohä'da'
chestnut oheya'da'
elm ogoñhä'da'
hemlock onéñ'da'
hickory heñnék
hickory (shag bark) hasdék
ironwood sgaeñdagásde'
leaf onä•hda'
maple ohwáhda'
maple (soft) awéñhátgwa'
muscle wood sgaeñdagasde'
nut ohsó'gwa'
pine tree ohnéhda'
popular onä•hdagáe'ih
red willow otgwéñhda•' niyohoñdo'déñh
root okdéhä•'
spicebush da'dyá'ksgwa'
sassafras wa'eñ•ná•gä•s / a'eñ•ná•gä•s
sumac otgó'da'
oak (swamp) ganawagoñwakhá'
oak (white) gaeñda'hé'sda'
tamarrack oweñ•dá'ksde'
walnut deyotsho'gwathwe'noñníh
walnut (black) ohso'gwajih
(replant the) tree sajyeñ•dó•deñh


truck gahehdanéñhgwik

(it is) true odi•hwagwáihshyoñh
(is it) true? odi•hwagwáihshyoñh kheñh
(he is) true / honest hodi•hwagwáihshyoñh
(it is not) true hya de'o•di•hwagwáihshyoñh
(she is not) true / honest hya' de'agodi•hwagwáihshyoñh

truly dó•geñs

(you) try it sade'nyéñ•deñh
(you will) try eñhsade'nyéñ•deñh
(you all) try swade'nyéñ•deñh
(let's all) try dwade'nyéñ•deñh

(I) try hard gahgwisheñk
(he is) trying hard hohgwísheñ'
(he) tried hard wa'hahgwishéñ'
(she will) try hard eñyoñhgwishéñ'
(he used to) try hard hohgwisgwisheñdáhgwa'

Tuesday degní wadóñ'tha'

turkey nedahéñhwah / nehaheñhweñh

turtle ha'nó•wa·'

Tuscarora Hoñdasgáeyeñ

twelve dégní gáhe•'

twenty dewashéñh

(they are) twins dehníkheñh
(you two are) twins desníkheñh
(she is a) twin deyékheñh
(they two are) twins degníkheñh

two dégníh

Two Row Wampum Gaswéñdah

U
ugly gahétgeñ'

umbrella oñdeñhanosdákhwa'

(my) uncle hagno'séñhah
(his) uncle hano'séñhah
(you are my) uncle/chief goñnó'señ sayá•neh

undertaker heñheyoñ'danéñhgwik

(did you) understand? hwa'shék kheñ
(I) understand ak'nigoñhäyéñ•da's

(I) understood hya' khék
(she has) understood go'nigoñhäyeñ•dá'ih
(I) understood oñk'nigoñhäyeñdá'nha'
(he) understood wa'ho'nigoñhäyeñdá'nha'

underwear ha'goñwakhá'

(I am getting) undressed gahseñ•nyáhshyoñs
(he is) undressed hohseñ•nyáhshyoñh
(i will get) undressed eñgahseñ•nyáhshya'

umbrella oñdnoñhsodakhwa'

(they) use it hadístha'
(will he be) using it? eñhásthak kheñ hóñ•h
(I may be) using it a•gésthak
(I was) using it agesdíhna'

(it is) used up wats'áhdih
(it gets) used up wats'átha'
(they have) used it up hodísdih
(I) used it wa'gésda'

V
(in the) valley gaheñ•wagóñ•wah

(I) value it agnóñsde'
(he) values it honóñsde'
(you will) value it greatly eñswanoñsdék
(I) value myself agadadnóñsde'

(female) vampire etgeñhsa•ga'stha'
(male) vampire hatgeñhsa•ga'stha'

vehicle ga'sé•hda'
airplane gahoñ•yóñ•dye'
bicycle degní degaeñnani•yóñ•da' / gaeñnaniyoñdóñ•nyoñ'
bus goya'danéñhgwik
canoe / boat gahóñ•wa'
car ga'sé•hda'
(nice) car ga'sé•hdiyóh
train ga'se•hdayanó•wih
truck gahehdanéñhgwik

vegetables ohnyoñhsagahde'shóñ'ah / nigaheñda's'ashóñ'ah

vine wada'eñní'se•'

vinegar deyohnegahyó'jis

violet dewadenyá•ya'ks

village/town gana•dá•yeñ'
(it is their) village hodinadá•yeñ'
(at the) village tsha' gana•dá•yeñ'
(at the) village gana•dá'geh
(in the) village ganadagóñ•wah
(the whole) village ganadagwé•gih
(top of the) village ganadóha•'

(they come to) visit hadigwáthwas
(he) visited wa'hagwáthwa'
(I) visited hehgwáthwas / hekgwáthwas
(I will) visit heñhgwáthwa'
(I went) visiting wa'gna•dáhä•'

(they are) vocalizing ona•di'sda•'

(I) volunteer gathoñ•gá•ya'ks
(he has) volunteered hothoñga•yá'gih
(he will) volunteer eñhathoñgá•ya'k

(he has) vomited thistgóñh
(i need to) vomit ge•hé' eñtgástga'
(I) vomit (now and then) tgástgoñs

WXYZ

(my) waist gayá'ga•'

waiter hakhwahä·ha'

(he will) wait eñheñnoñ'á'
(I am) waiting geñnoñ'as'
(she) waited wa'oñnoñ'á'
(i may) wait a•geñnoñ'á'

(you) walk dehsatha'áhgwah
(he is) walking íhe'
(she is) walking í•he'
(I am) walking (around) íge's
(they are) walking héñ•'ne'

(she is) walking (along the path) oñthahí•ne'

wampum otgó'ä•'
(the great) wampum gajisdowá•neñh

warfare/fight ade•yóhsä•'

(it's) warm o'daiheñh
(it will get) warm eñyo'daiheñh

warm season gageñhnhá'geh

(you) wash (your hands) señ'nyohaehék
(you two) wash (your hands) jyeñ'nyohaehék
(you all) wash (your hands) sweñ'nyohaehék
(I always) wash (my hands) geñ'nyohaehek dyotgoñt

water ohnéganos

waterfall detga'tgoñhsó•da' / dyohnegeñ'ih

watermelon ohnyoñhsagáhde'

(I will) wash (my laundry) eñgadohaehóñ'
(he) washed (his laundry) wa'hadohaedóñ'

(I am) wearing (it) agahgwásdih
(I) wear (pants) gathná'tsho•s
(I will) wear (pants) eñgathna'tshó•hga'
wear (your pants) sathna'tshó•hga'
(he) wears (mittens) deho'nyó•wih
wear (your gloves) deseñ'nyó•hgah
(i will) wear (my clothes) eñga•dya'dawí'da'
(I will be) wearing it eñwagesdík

Weather (the kind of day it is) niweñdo'déñh
cloudy otshí'ge•'
cold othó•we'
(it is) drizzling o'a•yóñ•dyoñh
(it is) foggy deyaoñyóhwih
frost gahséñhä'
hot o'dáiheñh
lightning deweñnihwáhoñk
(it is) raining osdáeñ•dyoñh
hail/sleet owihsoñdyóñh
(it is) thundering gaweñnodá•dye's
(it is) snowing o'géñ•dyoñh
snow flurries o'geñ•dye•nóñ•dye's
sunny odeñháe•da'
(it is) windy owä•de'
(it is a big) wind ga•e•wá•neñh

(female) werewolf gothahyoñnih oñdadoñ•nyaha'
(male) werewolf hothahyoñnih hadadoñ•nyaha'

Wednesday ahséñ wadóñ'tha'

(you will do) well eñhse•yeñni•yó'khe'

what wadéñ' / nwa•hó'deñ'

wheat ohä•hgoñnyátha'

where (are you?) gaeñ•noñ nihse's
where (is she?) gaeñ•noñ niyeñ's
where (is he?) gaeñ•noñ nihe's
where (are they?) gaeñ•noñ niheñne's


whip-poor-will gwe'gohnyeñ'

white owä•hé'sda'

white person ha'shéñ•nih

(it is) wide wada•gwéñhda'
(it is) wide oda•gwéñhda'
wide (road) ohahagwéñhda'

wild onion o'noñhsó•ya'

(I am a) winner gatgwé•nyoñs
(she will) win eñhatgwé•nya'
(he will) win eñhatgwé•nya'
(I did) win/won wa'gatgwé•nya'
(he did) win/won hotgwe•nyóñh
(we will) win eñdwatgwe•nya'
(we all will) win eñyagwatgwe•nya'
(you guys will) win eñswatgwe•nya'
(they will) win eñhoñtgwe•nya'

wind/air ó•wä'
(the) wind (is stirring) deyo•wä•wéñ•yek

window onoñhsagahéñ•da'

windy owä•de'

wing oyá•da'
(on his) wing haya•di'geh
(on her) wing eya•dí'geh

(I am a) winner gatgwé•nyoñs

(my) wife kheksdéñ'

(you) wipe it säge•wah
(she) wipes (it)

Winter gohsä•'geh
wintry aohsä•dih
(it became) winter wa'óhsä•t
(it will becaome) winter eñyóhsä•t
(it is a bad) winter odohsä•tgíhdih

whiskey ohegahwíshe'

(i) wish (you good luck) sadä•'shiyóh

(I am making a) wish dewagadeñ•nóñ•da'
(I) wished wa'tga•deñ•nóñ•deñ'

(female) witch gotgoñ'
(male) witch hotgoñ'

wolf hothahyoñníh

woman agóñ•gweh

(he) won wa'hatgwe•nya' /or/ wa'hadeñ'neha•'
(I) won wa'gatgwe•nya' /or/ wa'gadeñ'neha•'
(she) won wa'oñtgwe•nya' /or/ wa'oñdeñ'neha•'
(who) won? soñ•' na' wa'oñtgwe•nya' /or/ soñ•' na' wa'oñdeñ'neha•'
(you) won wa'satgwe•nya' /or/ wa'sadeñ'neha•'
(we) won wa'agwatgwe•nya'
(you guys) won we'swatgwe•nya'
(we all) won we'dwatgwe•nya'
(they) won wa'hoñtgwe•nya'


(it is) wonderful aweñtgá•de'
(it will always be) wonderful eñyawweñtgá•dek

wood gaéñ•da'
(the) wood (was burned by someone) gayeñdeñ'dá•hwih
(he will go get) wood eñhayeñda•gwáha'
(he cuts up) wood dehayeñdahí•tha'
(he splits) wood dehayeñdó•weñs
(he split) wood wa'thayeñdoweñhséñ•'
(they put) wood (in the stove) wa'hayeñdóñthwa'
(i cut) wood degyéñ•dya'ks
(he chops) wood dehayeñdyá'khoñk

(downy) woodpecker gwidógwit / degaeñdajis'os

word owéñ•na'
(his) word/voice howéñ•na'
(my) word/voice agwéñ•na'

word, matter, thing, reason, thought, owíhwa'

(I am a) worker agyó'deñhs
(I have) worked agyo'déñ'ih
(she will) work eñyagoyo'déñ'ha'
(they) worked wa'hodiyo'déñ'ha'
(he ought to) work a•hoyo'déñ'ha'
(you all) work swayo'déñ'hah

worm oji'noñ•wa'

(! am) worried agade•yeñ'do•da'
(he is) worried hode•yeñ'do•da'
(she is) worring e'nigoñdeñ•da'

(you) write shya•doñh
(you all) write swahya•doñh

(she) yawns deyagohsa•ga'wátha'

(one) year jyohsä•dah
(one) year (ago) jyohsä•dagéñhä'
(new) year ohsä•hsé'
(many) years odohsä•gá'de'

(I) yelled/shouted wa'dwakhéñehda'
(he) yelled wa'thohéñehda'
(they) yelled dehodihéñetha'
(I am) yelling dewakhéñetha'

yellow / bile ojí'tgwa•'

yes heñheñh / heñéñh

yesterday ahsé•deh

you ís / ihs

zombie hogayoñdoñha•dye'

zucchini ohnyóñhses



Computer Typing codes

Microsoft Codes

Alt + 0241 = ñ

Alt + 0149 = •

Alt + 0228 = ä

Alt + 0225 = á

Alt + 0235 = ë

Alt + 0233 = é

Alt + 0246 = ö

Alt + 0243 = ó

Alt + 0237 = í

Google Docs: Insert > Special Characters


00F1 = ñ

U+2022 = •

00E1 = á

U+00E4 = ä


00E9 = é

00ED = í

00F3 = ó


Pronunciation Guide

Letters / Similar to English / Onondaga Example
a / saw, father, tuck / oyéñ'gwa•' (smoke) haksa'áh (boy)
ä / hat bad / heháähdats (he runs) hodä•gweñh (he has claimed it)
e / weigh ebb / gahé•hna' (pack) ehnegá•khwa' (pitcher)
i / bee heat / hwíks (five)
o / go / odékha' (fire)
eñ / men send memory / oyéñ'gwa•' (smoke)
oñ / moon tune / odoñ•yóda' (haystack)
c / ship sash / dewadekháhcyoñs (it comes apart) oñgyátci' (friend)
d / doll ladle / odékha' (fire)
g / garden / gagáhä' (glasses)
h / hand / hwíks (five) desaät'áh (put your shoes on)
j / jingle / gajisdóha•' (torch – lamp)
kh , k' , k (at the end of a word) / king / e'níkhoñk (she sews) dek'áhseñh (spider)
k (before consonant) / skate / eksa'áh (girl)
n / nine banana / osnó•we' (it's fast)
s / sing / só•wäk (duck)
th , t' , t (at the end of a word) / tin / hadístha' (they use it) heyogeñt'áh (it is barely visible) wa'thaähdat (he ran)
t (before consonant) / sta mp / wa'tkdagweñhdéñsda' ( I flattened it)
w / away / owéñ•na' (word)
y / yes / gayá•ä' (bag)
' / uh-oh / ga'áhsä•' (basket)