The Big Picture School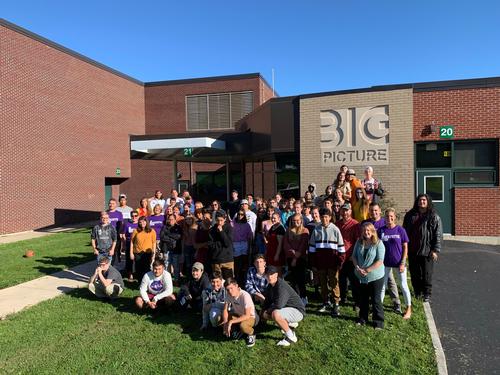 Address
3122 Rt. 11 North
LaFayette, NY 13084
Announcements
2019 - 2020 **New MONDAY Schedule !!
2pm dismissal every Monday! If you did not recieve information in the mail about the Professional Learning Communities please call so we can get it to you!
---
StopIT
Stop!T
Students can anonymously report incidents of harassment or bullying using the Stop!T application or web reporting link on our website:
click here
. You can download the Stop!T for your smartphone from the Apple ITunes Store or Google Play. You will need to enter an access code based on your school building. Here are the access codes:
Jr/Sr High & BP LANCER
You can learn more about Stop!T by
clicking here
.
You can also report any incidents of bullying/harassment to any school administrator or staff member.
---
Shadow Days & Internships
Finding each students passion through shadow days and internships is paramount at BP. Start talking about studnet interests and pass them on to David, our internship coordinator, 315-504-1002.
---
Price Chopper Tools for Schools Program:
If you shop at Price Chopper please enroll your AdvantEdge card with our school code 56006 (LaFayette Big Picture). To enroll your AdvantEdge card go to:
www.pricechopper.com
. This will help our school earn much needed free equipment and supplies.
---
Schooltool (parent portal)
School News
September 2019 Greensheet Newsletter:

The October Greensheet has arrived! Please click HERE to read all the exciting things we have going on in the District, or click on the "Greensheet" logo on the District home page.

more >>
Pearson Data Breach:

August 29, 2019 LaFayette CSD subject to Pearson Data Breach LaFayette Central School District was recently advised by Pearson Education Inc. that some student information from the AIMSweb1.0 was accessed by an unauthorized third party. AIMSweb is a reading and math diagnostic assessment tool used to screen students for basic reading and math skills. The district purchased this assessment through the Central New York Regional Information Center who has been assisting LaFayette Central ...

more >>
BPS Teacher Earns Prestigious Honor:

Leonardo "Lenny" Oppedisano, LaFayette Big Picture Advisor and Science Teacher, was awarded the "Big Picture Learning Advisor of the Year" award! On July 24, Lenny received the award at the annual Big Picture Learning International Conference on Student Centered Learning, held in Detroit, Michigan. Lenny is the founding advisor of the LaFayette Big Picture School, and has shepherded two cohorts to graduation and is currently supporting his third cohort into ...

more >>
BPS Students Give Loretto Residents a Prom to Remember:

We currently find ourselves in the middle of "prom season," a weekend that holds special memories for a lot of us. However, a couple of caring students from the LaFayette Central School District's Big Picture School (BPS) recently helped a different group of seniors create some special memories of their own. From an idea conceived by BPS senior Hunter Luteran, the Loretto Senior Prom was born. Hunter has been an intern at Loretto since his sophomore year, and has come to ...

more >>
View more stories >>
Links for Students
Downloads